Adventures in Parenting?
How many of you out there have taken a trip to the Emergency Room with your kids? Have you, your spouse or your kids had to get stitches? I call these things "adventures" because they are part of life and part of living, right?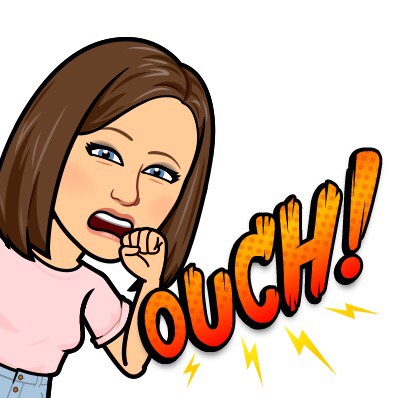 This has been our adventure only a few times in the almost 16 years we have been parents. I know that we are extremely lucky. Our oldest has never been rushed to the ER. Little did we know that she was the anomaly and not the norm.
We are pretty fortunate. For the most part, all of us are healthy people, and we stay active. We eat sweet treats and take the kids out for ice cream – and we do eat fast food when we're on the road – but mostly we eat healthy meals and try our best to keep the balance.
I remember my parents rushing me to the ER when I was four years old. I had decided to take a SuperGirl leap off of my dad's office chair – a chair with wheels in a basement home office with a concrete floor – and broke my arm. It was a whopper. I managed to chip the growth ring on my elbow, and was in the hospital with my arm in traction for a week and a half with a pin holding my bones together. My parents have always said that I knew all the nurses and could get ice cream or popsicles from any of them, at any time of day.
Our middle managed to trip and gash his head on a desk in my husband's office several years ago, and while we didn't take a trip to the ER, we did spend most of the day getting him checked out and stitched up at Children's Hospital.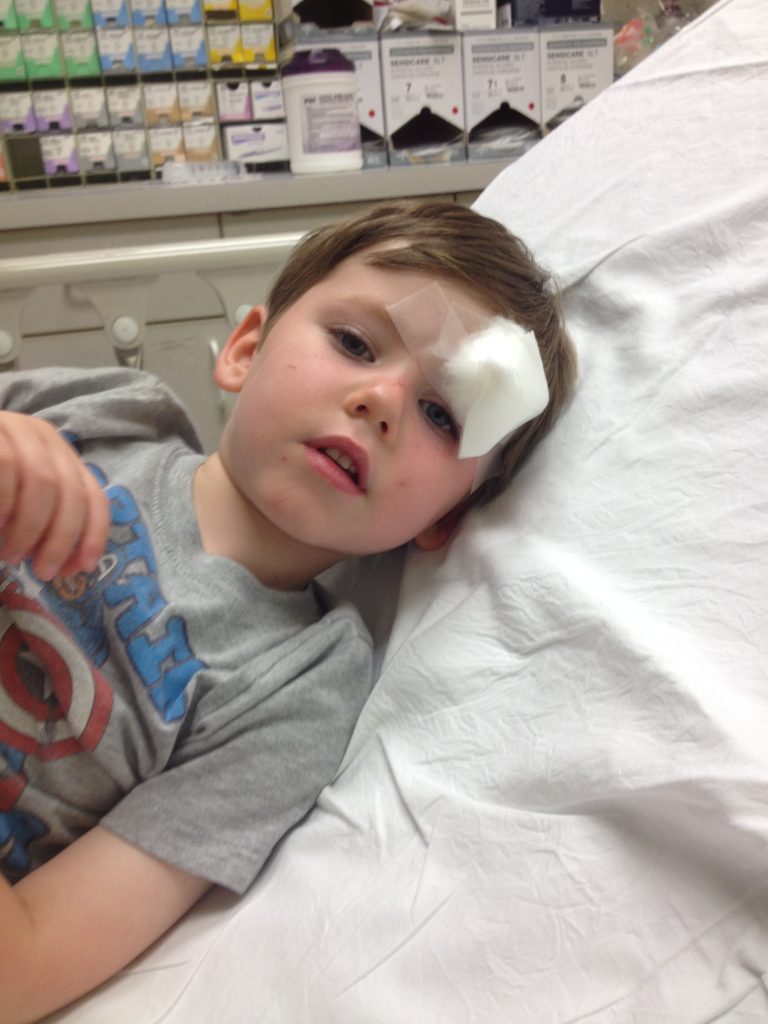 Little did we know that our youngest would be the one with the most hospital visits – and she's not even five yet! When our little was just shy of one year old, she got a head cold. And we discovered that she had a lymph node that was a little malformed when a golf ball sized bump appeared on the side of her neck. We then spent a whole day in the ER at Children's Hospital, followed by several additional days of tests, one MRI (for which she had to go under anesthesia), and another day under anesthesia when we had sclerotherapy to drain and shrink the lymph node. Thankfully, that one treatment worked, and we haven't had the issue again. We know that it could come back at any time if another pocket of the lymph node fills up, and now we know what to do if it does.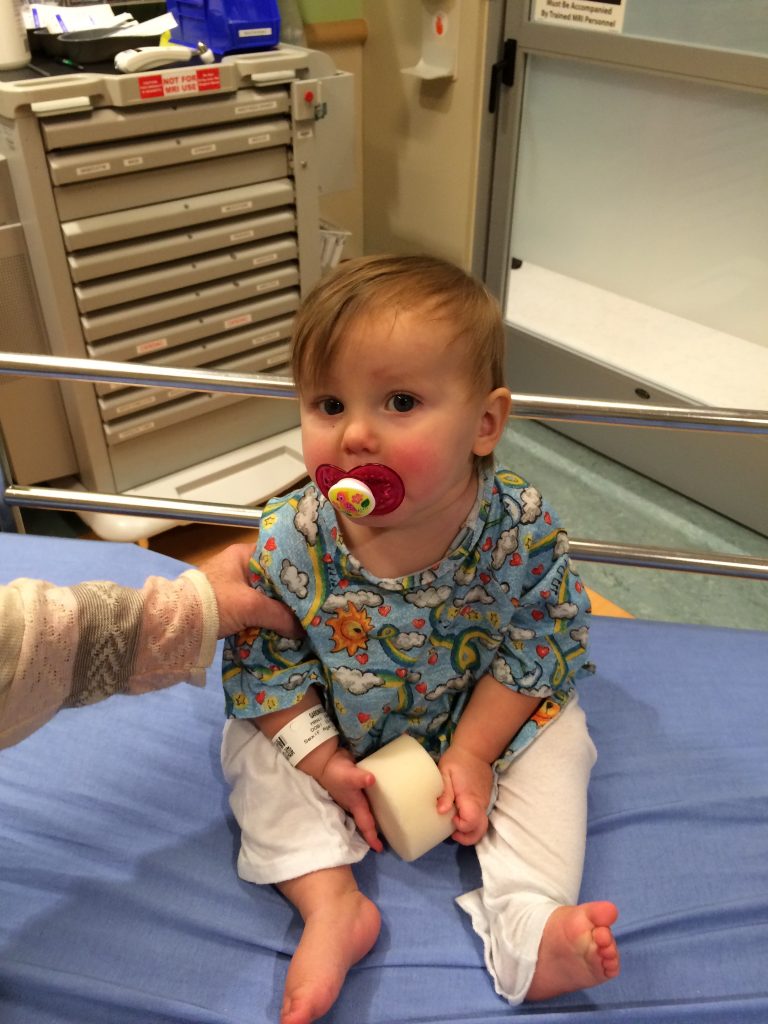 This whole episode was scary. Our baby had this anomaly and we had no idea what would happen. The doctors and nurses were all wonderful, and I am so thankful for all of them! I know that we are blessed. Our family doctor is a friend, and everyone at Children's Hospital Colorado does such a great job, each and every day. Every time I've been there with my kids, every person we see there is kind, caring and thoughtful.
I feel even more blessed knowing that all of these wonderful people are taking care of all the kids who need them. My children may hurt themselves occasionally, or we discover things like little Caitlyn's lymphatic malformation, and I am so comforted knowing that we have facilities and experts available to take care of all of us.
Last week, we had another adventure. Our little took a dive (she tripped) down the concrete stairs at the high school gym during her big sister's volleyball game. She now has three wiggly teeth and her incisor poked through her upper lip, which meant a lot of blood and a trip to the ER for some stitches – and a follow up with the dentist for some X-rays. She has been a rock star through all of it!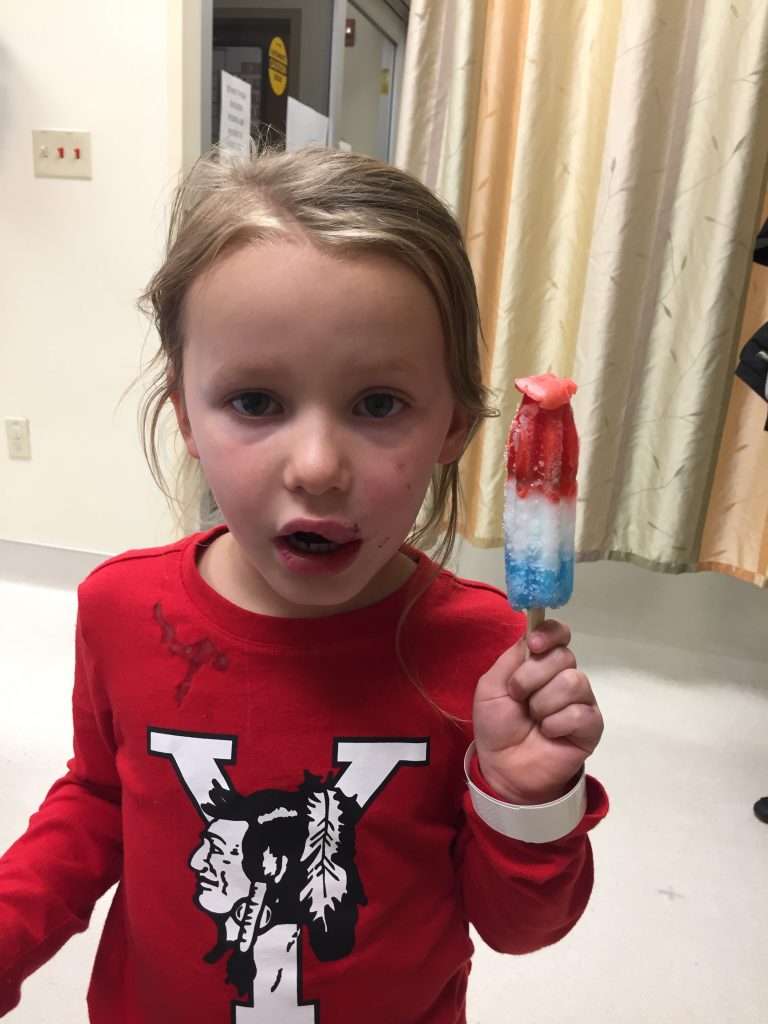 These parenting adventures are part of life, and I am very, very thankful that my husband was with me for each and every one of them. He dropped everything to go with me to the hospital when our son needed stitches, and he met me at the ER the other night when our youngest needed the attention. I know that this has been pure chance – more often than not, my husband is traveling across the country and one of these days I will have to handle these adventures by myself.
I know that I am up to the task if he's not able to be there. But we're a team and it's so nice to have him there for me, as well as be there for the kids!
How do you handle these adventures?
I highly recommend that you develop a relationship with your local team of doctors. I've said that our family doc is a friend – which he is – and I often text him random questions or send him pictures when one of the kids does something that we wonder whether it's worth taking them in for a check or not. I also know our family dentist well (he shares our last name, and his grandmother always says that we are additional grandchildren of hers), and left him a message the other night when Caitlyn had her adventure, which meant that we went in before his office was open to get the X-rays on her teeth the next morning.
What are your "adventurous" milestones with your kids? Broken bones? Stitches? Knocked out teeth?
Kids have accidents. They run into each other (or the wall, or the gym floor, etc.). Accidents happen, and we all have to roll with them along the way. We have to be strong and tough to show our kids how to act. We hold their hand while they get a shot of lidocaine to numb up their face. We snuggle them after and clean up the messes.
I say our oldest hasn't been to the ER – which she hasn't. But she is not without the usual run of active kid injuries. She sprained her ankle last year during basketball season, and tore her rotator cuff a couple of years ago during volleyball.
These things happen. I sprained my ankle really badly in 6th grade – tore a ligament and my ankle swelled up so much I couldn't wear shoes for two weeks. And six weeks later, I ran the Bolder Boulder 10K. Kids heal faster than those of us who've been around for awhile!
I often say kids bounce. Which isn't to say we let them fall, but more that kids are incredibly resilient and they bounce back from injuries big or small. Sometimes the accidents and injuries have a much more lasting impact on us as parents than they do on our kids.
As always, remember to cherish the cuddle time when they are sick or hurt and sit down and watch that movie with them. Before you know it, they won't want to sit with you, and they'll be up and running around with their friends as if nothing had happened. Two days after Caitlyn's stitches (and a full 12 days before she's cleared to bite food with her front teeth), she was acting completely normal, trying to eat all the things, and wrestling with her brother. Kids will be kids – and we should let them!