The Best Mango Salsa
Are you ready for a new Weekly Recipe Win? This Mango Salsa is the best!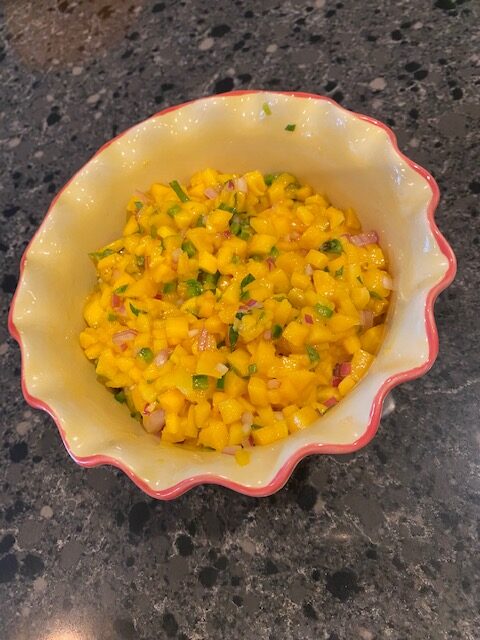 [Contains Amazon Affiliate Links – Juggling Normal gains a small commission on items purchased through the links]
I am always looking for a new appetizer idea that is a little out of the ordinary – especially in the heat of summer. We had a dinner party the other day, and this was the star of the show – even with the picky kids.
This mango salsa can stand alone as a pre-dinner snack, or you can add it as a garnish to grilled or sauteed fish, chicken and more!
Our little town grocery store carries fresh mangoes throughout the year, and I happened to pick a couple up the other day that were perfectly ripe.
Do you have favorite summer-time entertaining dishes that you go back to, year after year? This mango salsa is one of those in our house!
It is simple, with just a few ingredients, and once all of them are mixed together and marinate for a little bit in the fridge, the flavors are amazing!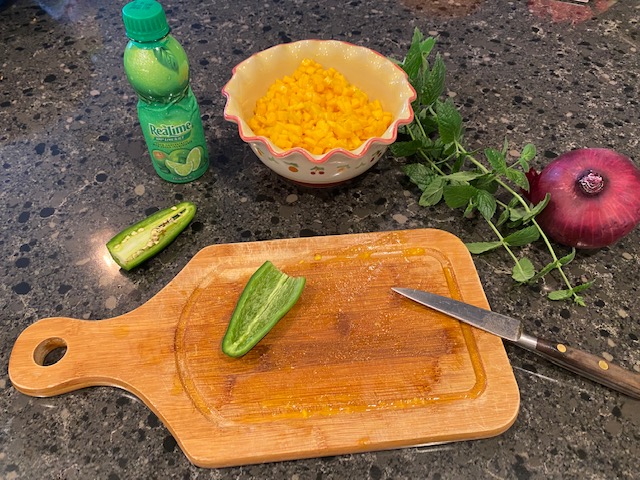 Start by cutting up the mangos – if you're looking for a Kitchen Hack on cutting up mangos, try this mango slicer!
My tips for how to cut up a mango:
Start by cutting into the top end of the mango (pointy end) towards the middle.
When your knife hits the pit, slice down along the pit to the base.
Repeat for the other side of the pit.
Slice off the fruit from each of the sides, along the pit.
For the bigger halves, slice into several smaller strips.
Slide your knife along the peel, removing the peel from each of the strips you have cut off of the pit.
Once all of your peel is removed, dice up the fruit!
Cut up half of a fresh jalapeno into the smallest diced pieces you can, and add that to the mango.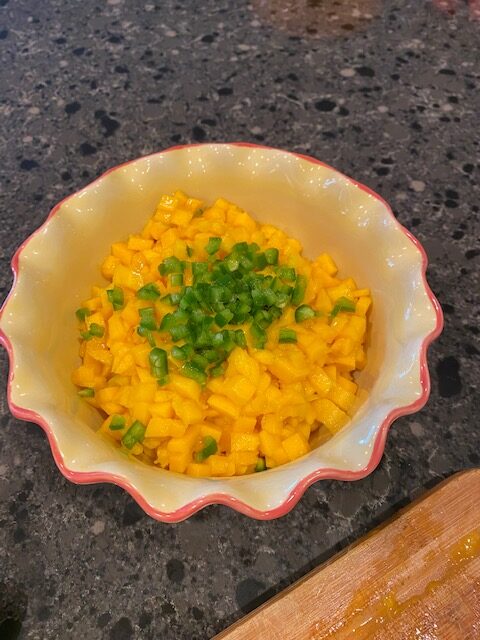 Then, dice about 1/3 (or about 1/4 cup) of red onion, and add to your bowl.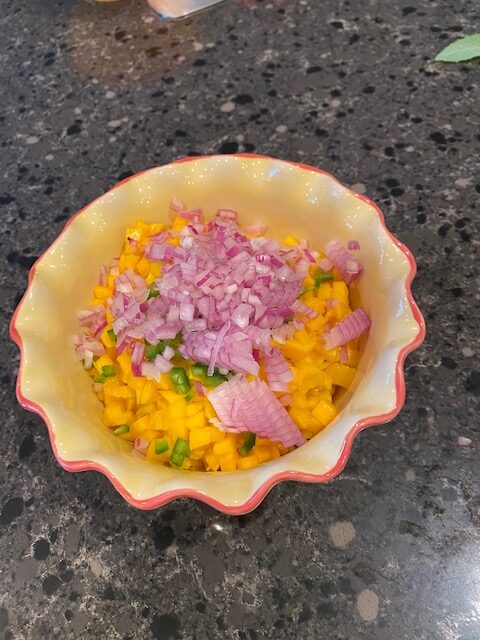 Do you grow fresh mint? We have never planted any, but we have mint in our yard that grows like crazy, which works great for summer cocktails and the best mango salsa! So, I go out and pick several mint sprigs from the yard whenever I make this, but you can also pick up fresh mint from your local grocery store.
Have you heard of my favorite kitchen gadget? Herb Scissors are the best! I use them all the time to cut up fresh herbs into dishes like this one!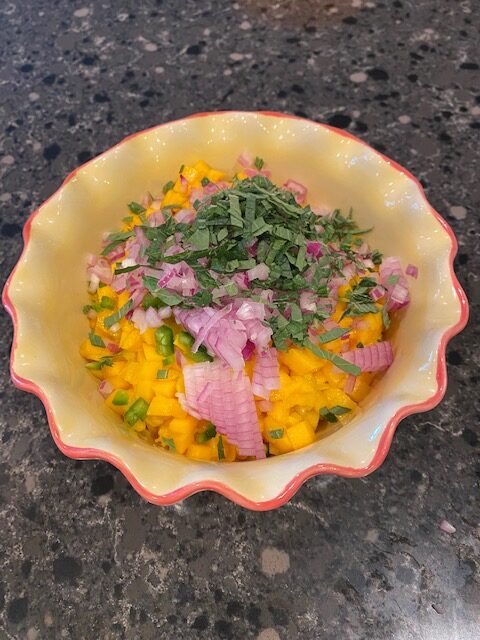 Add about a tablespoon of lime juice to your bowl, mix it all up, and refrigerate for about half an hour to marinate all of those delicious flavors together.
Voila! You have the best Mango Salsa for your next gathering!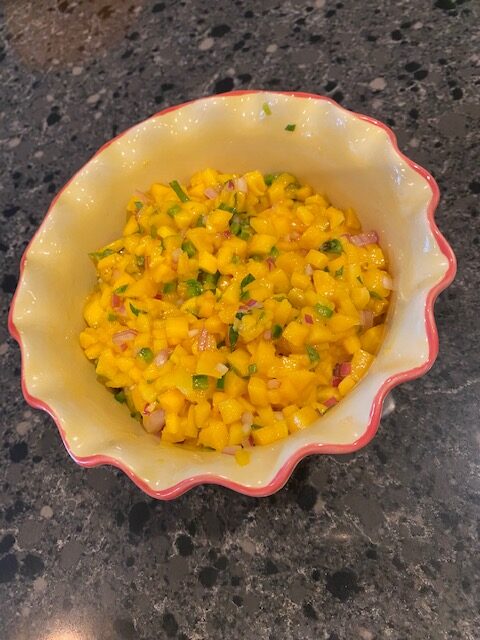 If you're looking for other amazing summer recipes, check out this Easy Caprese Salad!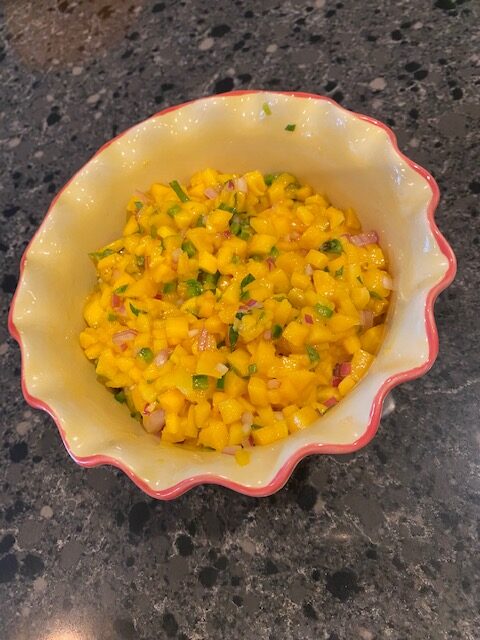 This delicious sweet and spicy salsa is great by itself, or on fish, chicken, tacos, and more!
Prep Time
30 minutes
20 seconds
Additional Time
30 minutes
Total Time
1 hour
20 seconds
Ingredients
2 ripe mangos
1/2 fresh jalepeno
1/3 small red onion
fresh mint
1T lime juice
Instructions
Cut up, peel and dice mangos
Cut up, take out seeds, and dice jalepeno
Dice about 1/3 of a red onion or about 1/4 cup
Chop fresh mint
Add lime juice
Mix it all together
Refrigerate for at least 30 minutes to marinate all the flavors together.
Enjoy!
Recommended Products
As an Amazon Associate and member of other affiliate programs, I earn from qualifying purchases.
Nutrition Information:
Yield:
8
Serving Size:
1
Amount Per Serving:
Calories:

54
Total Fat:

0g
Saturated Fat:

0g
Trans Fat:

0g
Unsaturated Fat:

0g
Cholesterol:

0mg
Sodium:

1mg
Carbohydrates:

13g
Fiber:

2g
Sugar:

12g
Protein:

1g