Kitchen Hacks
Do you have a few go-to things in your kitchen that help make meal prep easier? Here are a few of our favorites that might help you too – the best kitchen hacks!
[Note: contains Amazon affiliate links. Juggling Normal gains a commission on sales when you use the links.]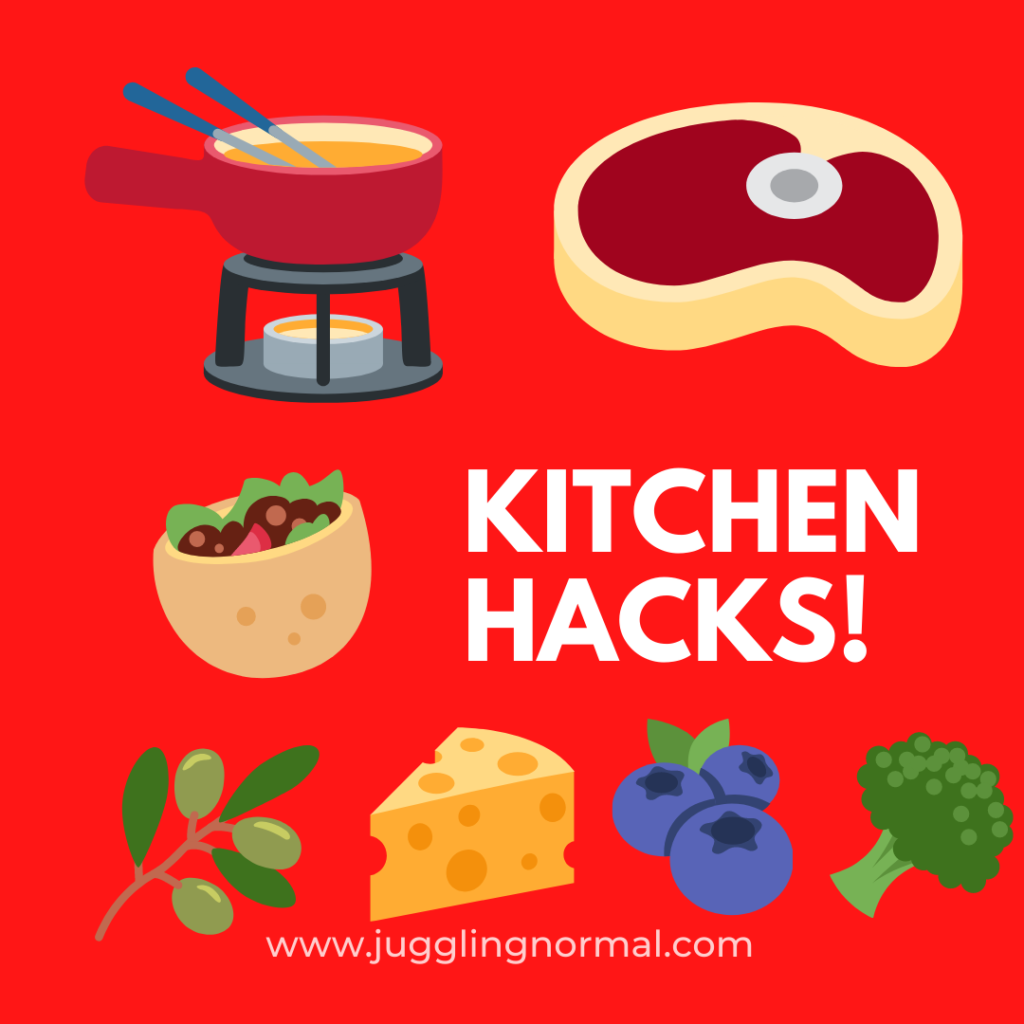 We have lived in the same house for 16 years now, and I have used many of the same tools and utensils for a good chunk of that time. Over the years, we've updated our pots and pans periodically, but some things are timeless, and if one of them breaks I make sure to replace it right away.
I have some all-time favorite things from Pampered Chef that are the best – we use their Micro-cooker and both sizes of batter bowl nearly every day, and their vegetable peeler is the best you can find. If you don't know a consultant, you can search for one on their site.
Some of my favorite serving and mixing bowls are hand-me-downs from the grandparents – especially old Pyrex bowls. You can find some online – Amazon has a few options, including the glass mixing bowls that are super handy.
These are the best random go-to things I use all the time:
What are your favorite kitchen tools? Is there something you use all the time that makes your life easier? Comment and share with us today! Give us your kitchen hacks!
In case you've missed it, check out Sara's Ode to My Crockpot for recipe ideas in her favorite kitchen appliance!
I love to cook, and I try to make things from scratch as much as possible – we know that homemade is always better. But it is hard with busy schedules and kids going in all directions. Summer is sometimes busier than during the school year, because now there is no regular schedule and we have so many more things to get around to every day.
If you need some easy recipe ideas, check out our Weekly Recipe Wins series for some inspiration! We have new recipes coming, but here are a few of my favorites:
Also, check out my one week of dinner ideas in Family Dinner, and Family Dinner 2.0!
Summer time is for fun, and enjoying life. I hope these ideas help make the daily grind of getting food on the table a little bit easier for you!
And please, share your kitchen hacks with us also!