Family Dinner 2.0
I wrote last summer about how important it is to me for us to have family dinner together at the table (or counter) every night. For us all to sit down – sans devices – and enjoy a meal together.
In my post last summer, I highlighted a week in which I had managed to make dinner 5 nights in a row – which is truly a huge mom accomplishment in the "normal" world we used to live in. I did not comment or post earlier this year during the lockdown about the marathon of meal cooking that we did in our house, since I figured that all of you were probably doing the same things we were. Breakfast, lunch and dinner at home almost every day, with a few takeout meals here and there to help support our local restaurants when we could.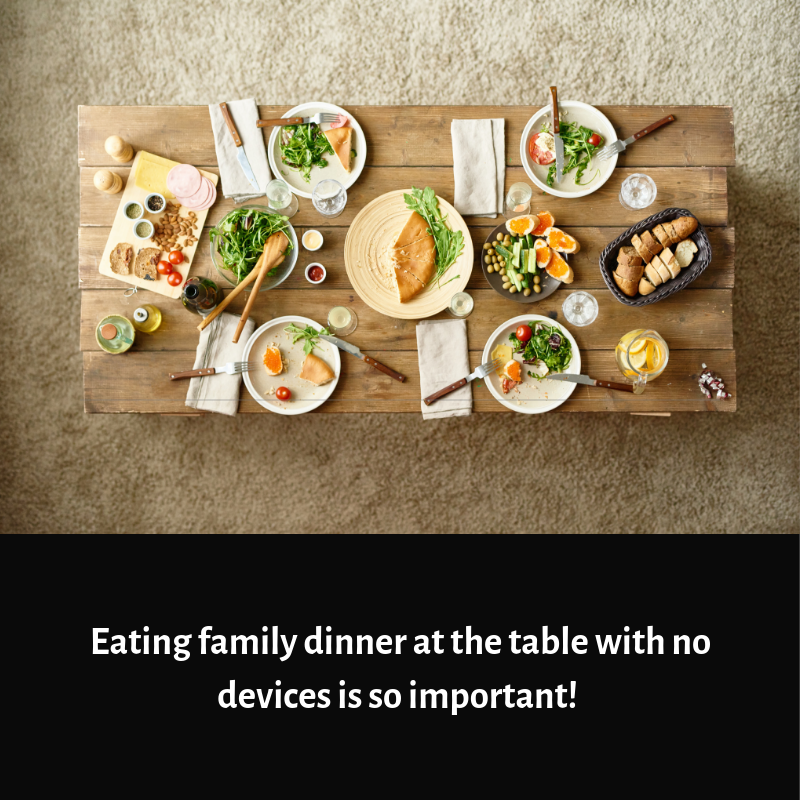 Now that we are back into a somewhat more normal schedule with kids back in school – in whatever form that might be – I am going to highlight a week (+/-) of dinners that we had from September 8-16. During that time, we had 7 unique dinners and one lunch at home, ate out one night (but made lunch earlier that day), and only had one night of eating leftovers.
As always, I will point out that while I enjoy cooking and I don't mind taking the time to put together meals that involve a little prep, I am also a big fan of using what I can to make dinner easy!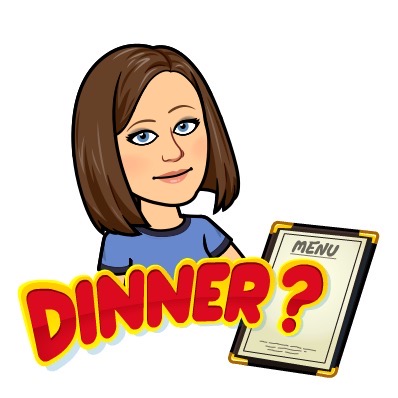 Dinner #1: Broccoli Cheese Soup
I love a good Broccoli Cheese soup – using one of my favorite Frontier Soups mixes from Lindsey's store – and this one took less than 30 minutes! Sometimes we pair this with bread and butter, biscuits, rolls, or beer bread.
Dinner #2: Chili
Our family recipe for chili is so easy – and it was a great make-ahead crock pot dinner on a chilly day. We always have cinnamon rolls with our chili, and carrots and celery on the side.
Yield: 6-8 servings
Chili
Total Time
6 hours
10 minutes
Ingredients
2 lbs ground beef
onion
heaping tablespoon of flour
1 large can V8 juice
1 can kidney beans
1 can chili beans
1 cup prepared salsa
1 tsp chili powder
salt, pepper and garlic to taste
Instructions
1. Brown hamburger, add onions and saute until translucent, then add flour to coat
2. Transfer to crock pot and add remaining ingredients, cook on low for 6 hours or more (or cook all together in one large pot for an hour)
3. Serve with refrigerated cinnamon rolls and fresh carrots and celery
Nutrition Information:
Yield:
8
Serving Size:
1
Amount Per Serving:
Calories:

392
Total Fat:

20g
Saturated Fat:

8g
Trans Fat:

1g
Unsaturated Fat:

10g
Cholesterol:

101mg
Sodium:

661mg
Carbohydrates:

16g
Fiber:

4g
Sugar:

5g
Protein:

35g
Dinner #3: Pork Roast
I put a pork sirloin roast in the crock pot, added onion, potatoes and carrots, and sprinkled with olive oil, balsamic vinegar, brown sugar, garlic, salt and pepper, and a little red wine.
Dinner #4: Honey Garlic Crock Pot Chicken Thighs
This yummy Honey Garlic Chicken Thighs recipe was great, with rice and frozen veggies that I made/heated up just before serving.
If you don't have a crock pot in your kitchen – buy one now!!! My go-to is a 6-quart workhorse like this one, but I'm also a huge fan of our Ninja Foodi. (Contains affiliate links – I earn from qualifying Amazon purchases)
Lunch on Day #5: Jack O'Lantern Sloppy Joe Pie
To commemorate the kids and their dad pulling out our "Halloweentown" decorations and the unofficial start of fall in our house. We have used this Taste of Home recipe for years, and it is always a big hit!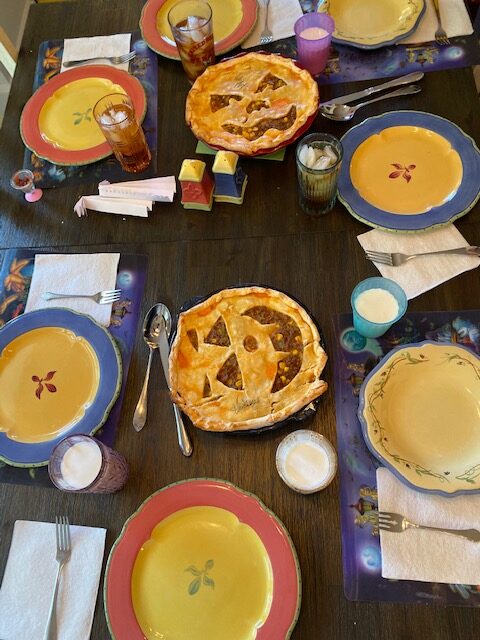 (Day #5 dinner was out to a restaurant after our youngest had her much-delayed dance recital that was originally scheduled for May).
Dinner #6: our epic Oktoberfest dinner.
My husband organized the whole thing, and this year we did a Sauerbraten roast (including pickling/larding it with bacon a day ahead) in the crock pot (a combination of two different recipes), hot German potato salad, Braised Red Cabbage with Apples (Rotkraut), and homemade pretzels. It was so amazing!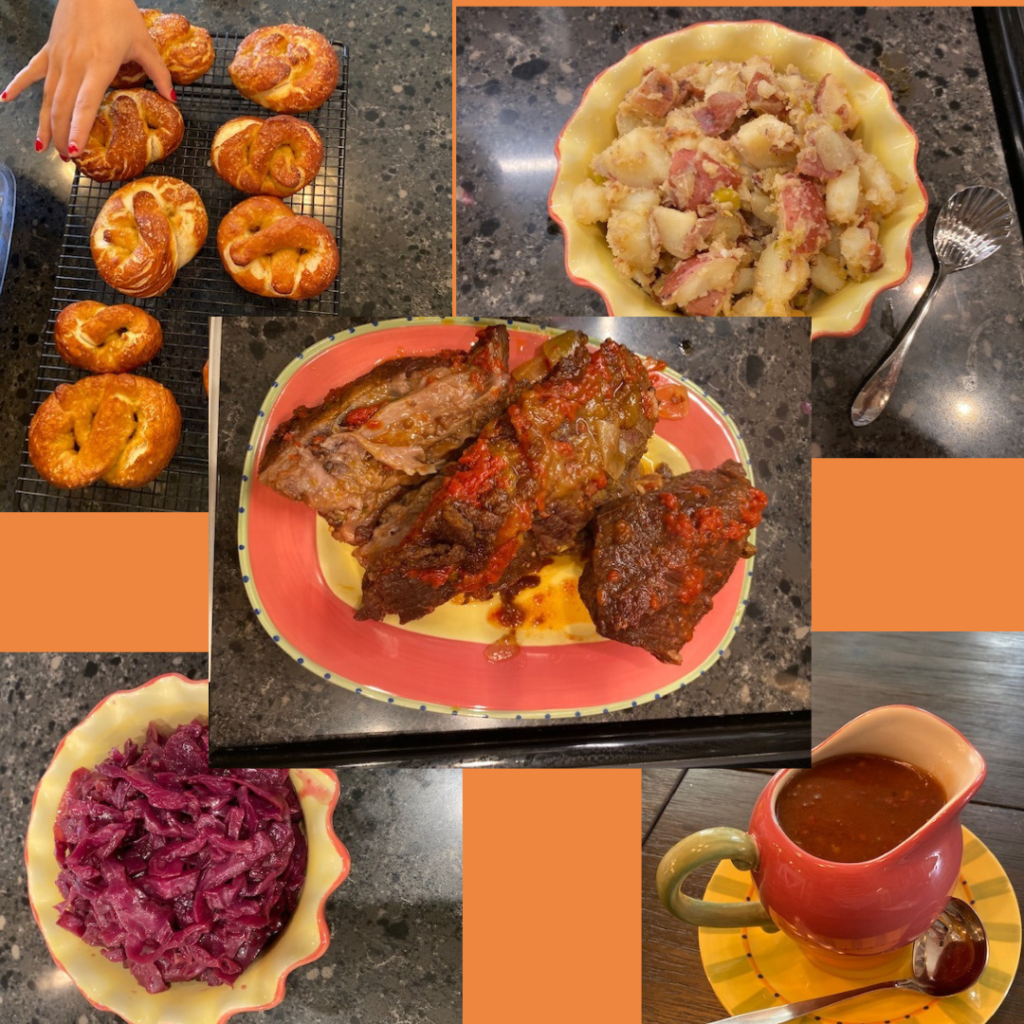 Dinner #7: leftovers
(My fridge was full).
Dinner #8: make your own taco night.
This is a go-to favorite in our house, and always a winner with my kids! I usually brown hamburger and onions, and do bowls of refried beans (I use dehydrated beans, but you can also use canned), diced tomatoes, avocado, shredded cheese and lettuce, with sour cream and salsa for everyone to add their own toppings as they choose.
Yield: 4-6
Make Your Own Tacos
Ingredients
ground hamburger
taco seasoning
diced tomatoes
diced avocado
diced onion
chopped lettuce
salsa
sour cream
dehydrated refried beans
taco shells and/or tortillas
Instructions
1. Brown hamburger, drain
2. Add taco seasoning and 2/3 cup water, bring to a boil and simmer for 4-5 min.
3. Dice veggies and set in separate bowls for serving
4. Add water to dehydrated beans and prepare in sauce pan or microwave dish
5. Let everyone make their own tacos!
Nutrition Information:
Yield:
6
Serving Size:
1
Amount Per Serving:
Calories:

201
Total Fat:

11g
Saturated Fat:

3g
Trans Fat:

0g
Unsaturated Fat:

7g
Cholesterol:

18mg
Sodium:

362mg
Carbohydrates:

18g
Fiber:

6g
Sugar:

3g
Protein:

9g
Dinner #9: Spaghetti.
Another staple for us. I brown hamburger and/or Italian sausage with onions and garlic (sometimes I add other veggies I have on hand), add a jar of your favorite spaghetti sauce, and pour over noodles of your choice. On this night, we also had a no-lettuce salad (known by my son as "mom's famous salad") – a very simple side of diced tomatoes, cucumbers, peppers, and thinly sliced onion drowned in Zesty Italian dressing.
If you missed it, I do sometimes make an easy homemade spaghetti sauce when I have a plethora of tomatoes from my garden. This year, we had an early freeze and snow, and my tomatoes did not do as well as usual. In case you were more fortunate, check out my recipe!
Yield: 6 servings
Easy Homemade Spaghetti Sauce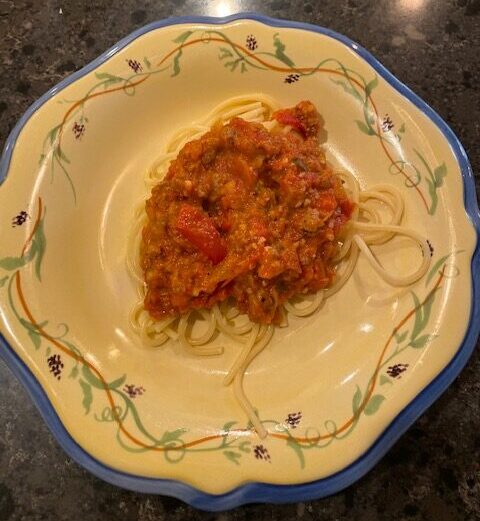 Additional Time
20 minutes
Total Time
3 hours
40 minutes
Ingredients
1 onion
5-6 garlic cloves
12-15 tomatoes
dried basil
dried oregano
salt pepper
2-4 tablespoons butter
1/4 cup red wine
1 lb hamburger
Instructions
Chop onions and garlic
Saute onions, garlic and spices in olive oil in a large pot
Cut up tomatoes (you don't have to dice, just quarter and then halve the pieces) and add to pot
Bring to a boil and simmer on low for 2-3 hours or more, until tomatoes have broken down
Add butter and wine, and use immersion blender to chop up the tomato skins
Brown hamburger, drain and add to sauce
Simmer all those flavors together while you make the noodles
Enjoy!
Nutrition Information:
Yield:
6
Serving Size:
1
Amount Per Serving:
Calories:

325
Total Fat:

17g
Saturated Fat:

8g
Trans Fat:

0g
Unsaturated Fat:

7g
Cholesterol:

61mg
Sodium:

439mg
Carbohydrates:

29g
Fiber:

4g
Sugar:

9g
Protein:

15g
Friends, if you are anything like me, you have been struggling to come up with dinner ideas. These are a few that I have used, and I hope you enjoy them as well. Pandemic cooking has been an adventure this year. We all have staples in our dinner rotation. I try to come up with new ideas to mix in, and sometimes (like the Honey Garlic Chicken above) I literally do a Google search and use the first recipe that sounds good.
I consider 7 out of 9 dinners to be an epic mom win – and definitely a winning week of recipes and dinner ideas for our Weekly Recipe Wins series!