JugglingNormal Group Q&A: Halloween Then and Now
What is your favorite Halloween tradition?
A couple of weeks ago, Courtney mentioned in our group chat that she is getting ahead of her Christmas blog posts, and Sara was still in "delicate negotiations" with her children about Halloween costumes. So, it is timely on the day before Halloween for us to open up a discussion of our favorite traditions for this fun kid (and big kid) holiday.
In our house, Halloween is something we have special decor for, and I try to hold the husband and the kids off as long as possible in putting out the Halloweentown village in our bay window. I think I made it to Labor Day weekend this time.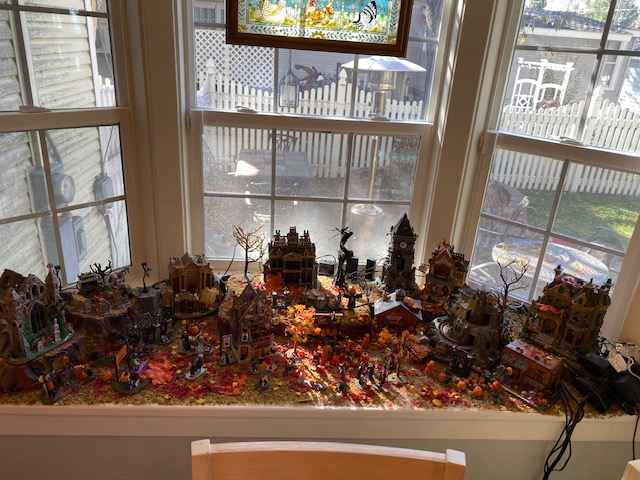 We have special food (see Family Dinner 2.0 for our Jack O-Lantern Sloppy Joe Pie recipe). We change our front porch decor and setup.
I keep the pumpkins and fall leaves out for another month, but I'll switch out the Jack O'Lanterns for pilgrims and Indian corn around the house next week. I love fall – the weather changing, the cozy soup nights, and the fun with my kids.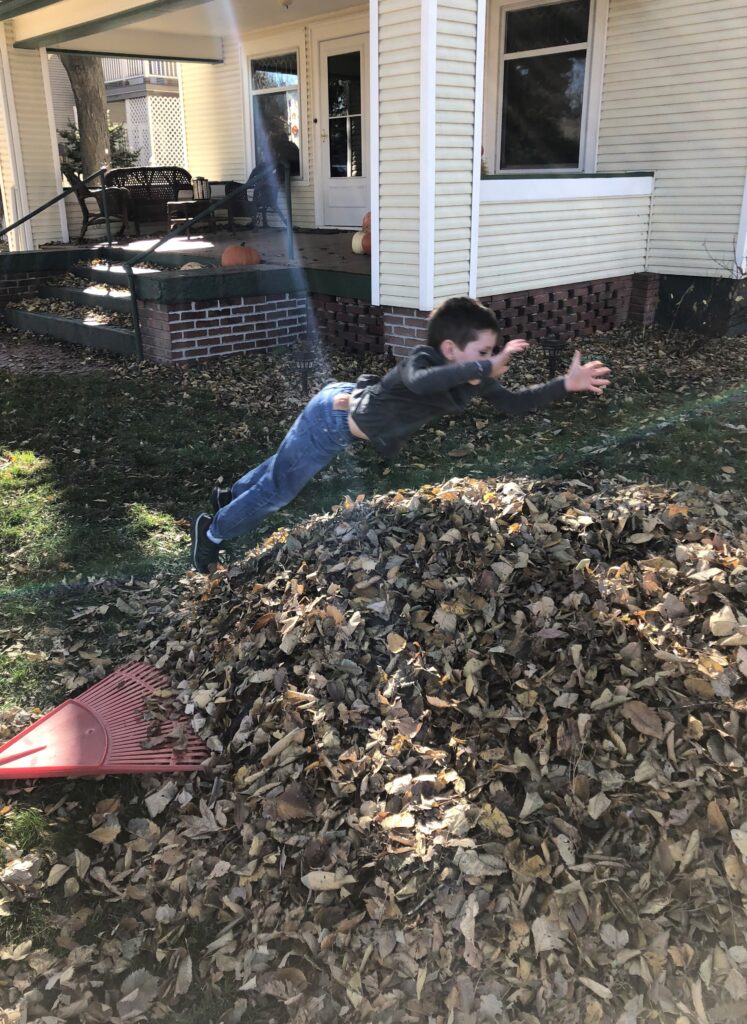 Jumping into leaf piles, carving pumpkins (which we will do tonight), and all of their costume excitement.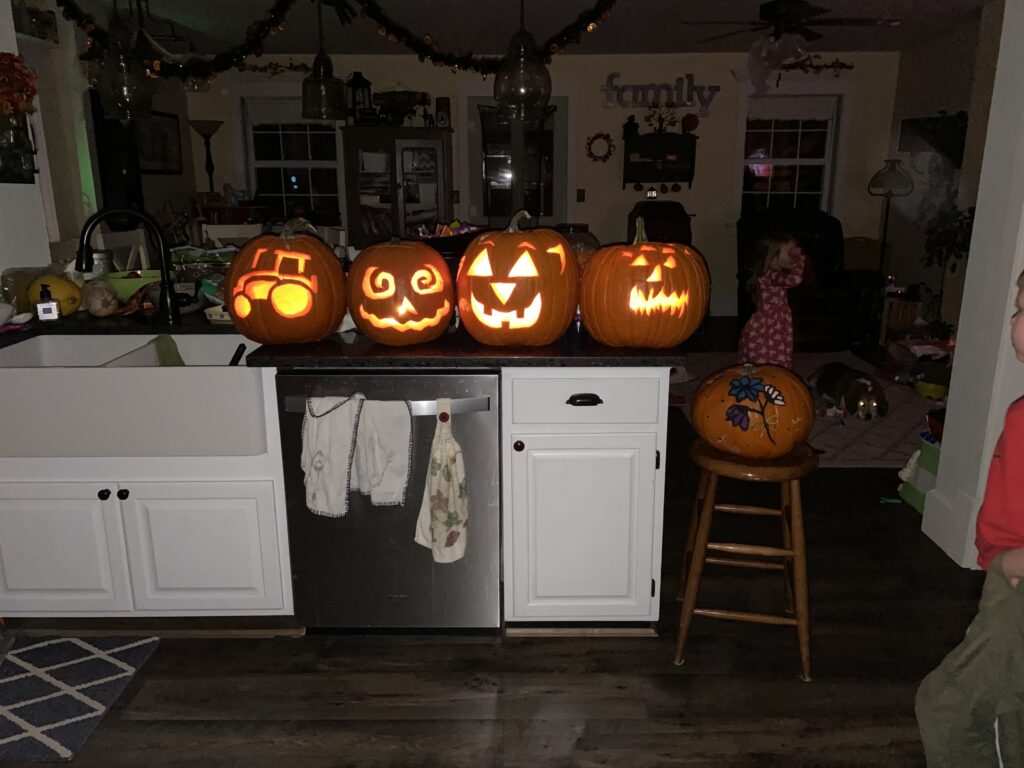 This year will be a little different. But the kids' excitement over candy and costumes is not diminished. They are having a movie and costume party at school today, but no Halloween parade outside with the whole community. The Trick or Treat Street activities on Main Street will have a headcount and be spread out to a second location across town. And that is ok. We have figured out ways to still make it fun for our kids. Which is all that matters.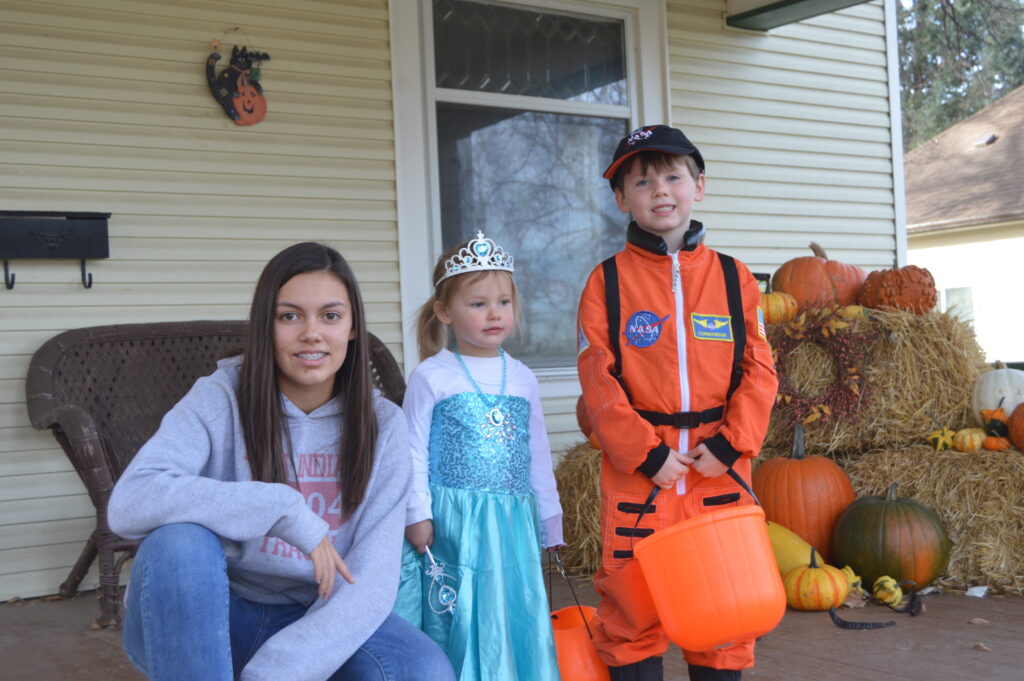 How early did you buy your kids' costumes this year? We went to a store several weeks ago, found one for the little (Wonder Woman), but not the middle and the one I ordered online (Air Force Pilot) is huge on him – so, no time to exchange, a little sewing and belt action, and we are good!
Two weeks ago, all the costumes my kids wanted were sold out. So…
We always do group costumes. Past years have included the Pumpkin Patch, Harry Potter and others. This year, my 4 kids are going as Ghostbusters!
We always do family costumes as well. This year, we have all agreed on Mary Poppins. Except the 3-year old, who is determined to be a dragon. We are going with the dragon being on the merry go round.
Last year, we did a Harry Potter theme.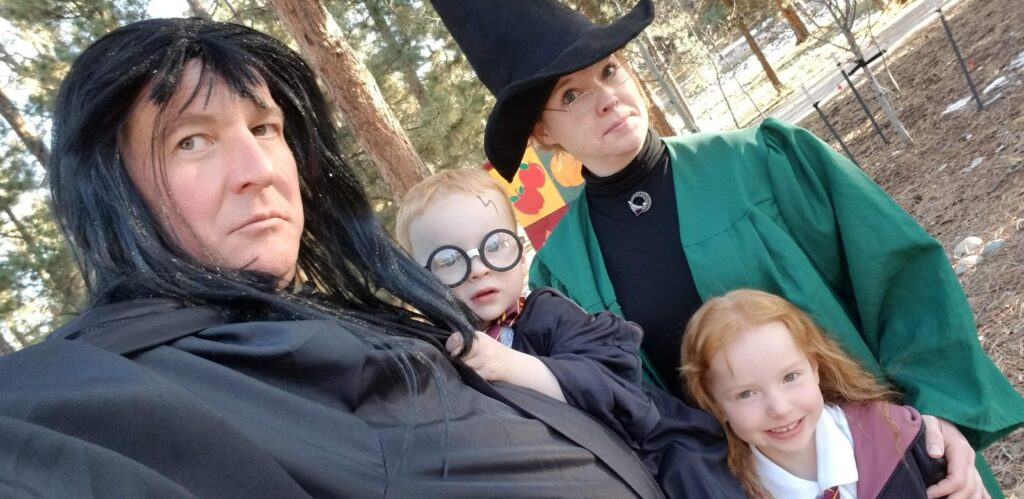 Year before that, pirates and a parrot for one day of parties and safari with a monkey and panther for another.
Star Wars was a theme before that.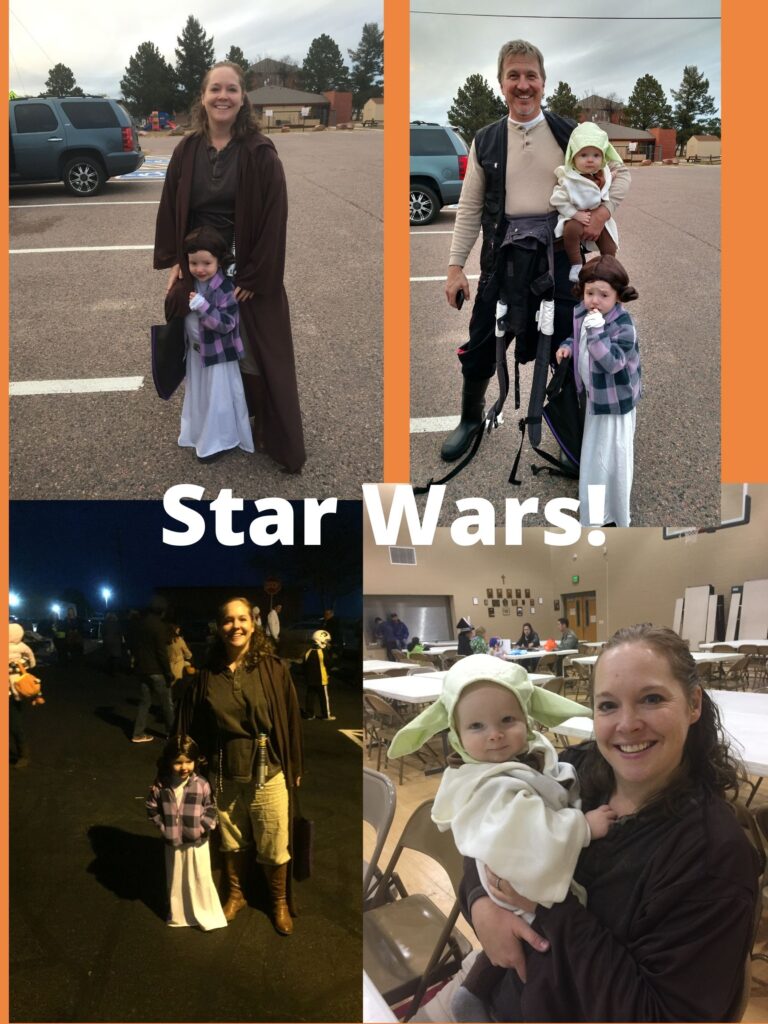 I love Halloween!
Our traditions always involve food and this year we pared our food with Halloween countdown activities! Here's a couple activities that made our list this year: We pared our pumpkin carving with white bean chicken chili, cornbread, and a seasonal beer for the adults. If the adults have a drink, I always make a fun drink for the kids too. Caramel apple cider with whipped cream was this year's choice.
Last year, we rocked orange Fanta with a sprinkle rimmer and black spider rings for garnish! After dinner is over, we crank up our Halloween playlist and carve away. Don't forget to save the pumpkin seeds for roasting! Here's a simple step-by-step to roast your own. On Halloween, we always make witch's punch complete with dry ice! This year we are trying something new too– we've planned a black light dance party with LED black lights we snagged off Amazon. Safe can still be fun and we're committed to fun!