Easy Roasted Brussels Sprouts
Delicious Easy Roasted Brussels Sprouts with bacon and maple syrup glaze – these are the best! Even your pickiest eaters will devour them. Perfect for our latest Weekly Recipe Win!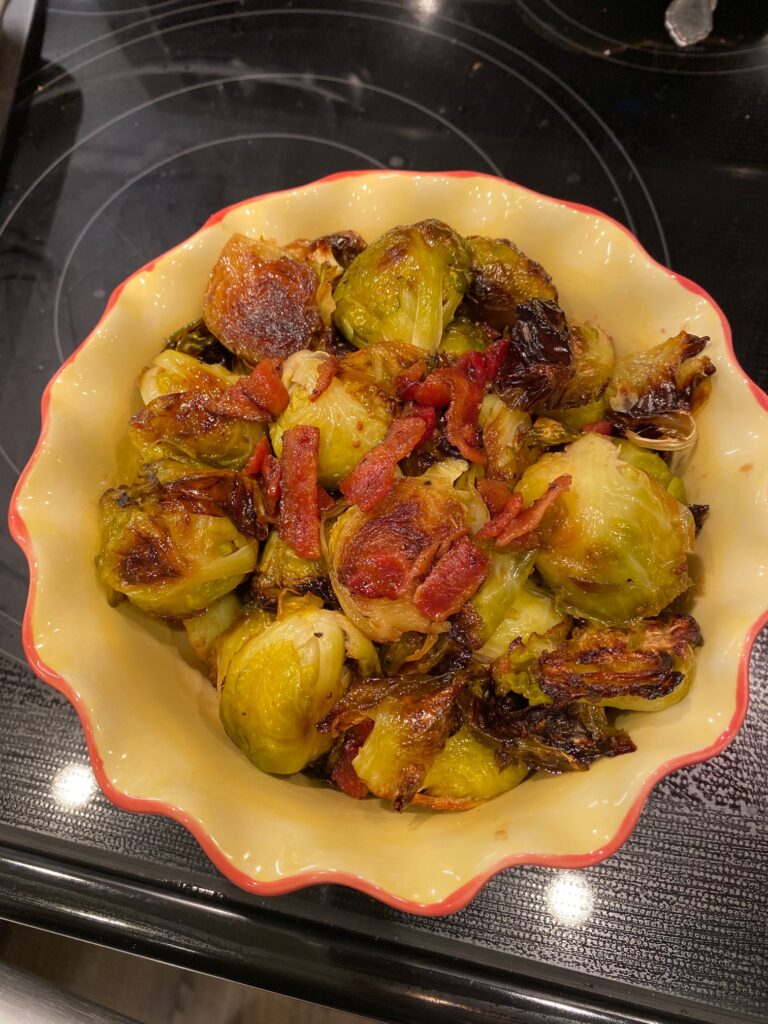 Over the weekend, we found some huge fresh brussels sprouts at the store, and decided we needed to build a feast around our favorite recipe.
My husband is the veggie roasting expert in our house, and he usually just tosses random things in. While he was cooking yesterday, I actually wrote down the recipe as he went. He thought I was being weird. But my pickiest eater really does love this dish!
Do you struggle to find variety in the veggies you cook? This dish is so amazing, and it's the perfect answer to the search for something different. Also, everything is better with bacon!
You can't ever go wrong when you basically add in candied bacon to a roasted veggie. Mouth watering!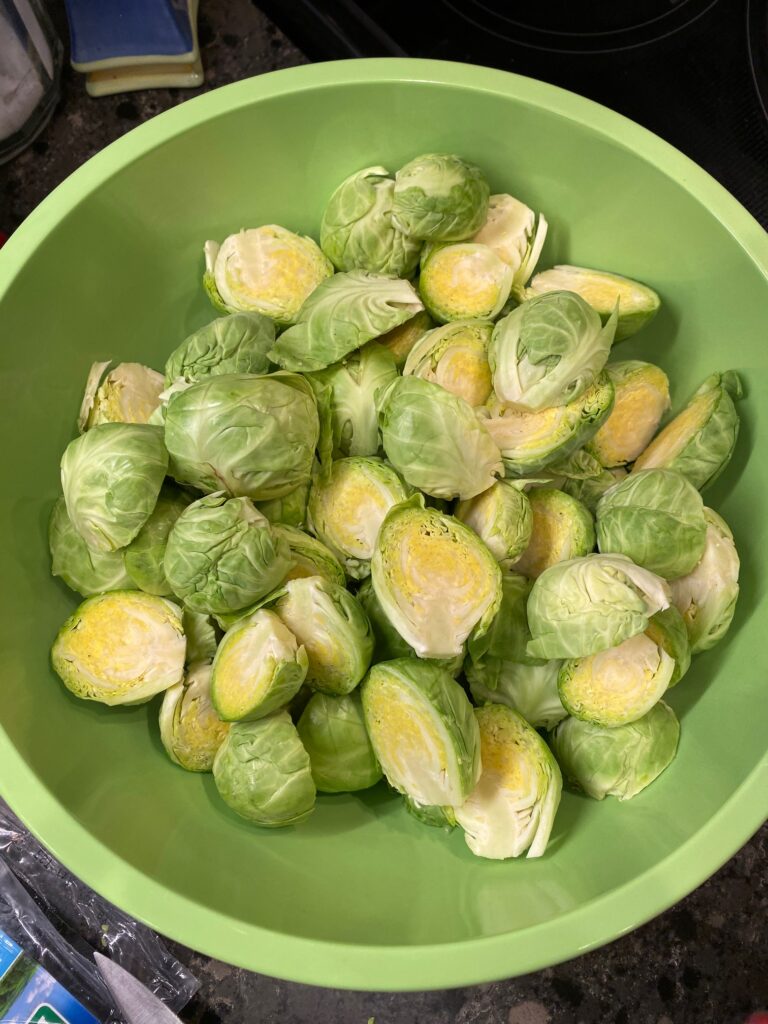 This really is so quick and easy. Start by prepping your sprouts – cut off the ends, peel back the outside leaves, and if they are big like the ones I found, cut them in half.
Prep your bacon, and reserve the bacon fat.
Toss the sprouts in olive oil and enough of the bacon fat to coat them, spread out on a pan and sprinkle with salt and pepper. You really don't need anything more than salt and pepper when roasting veggies – simple works!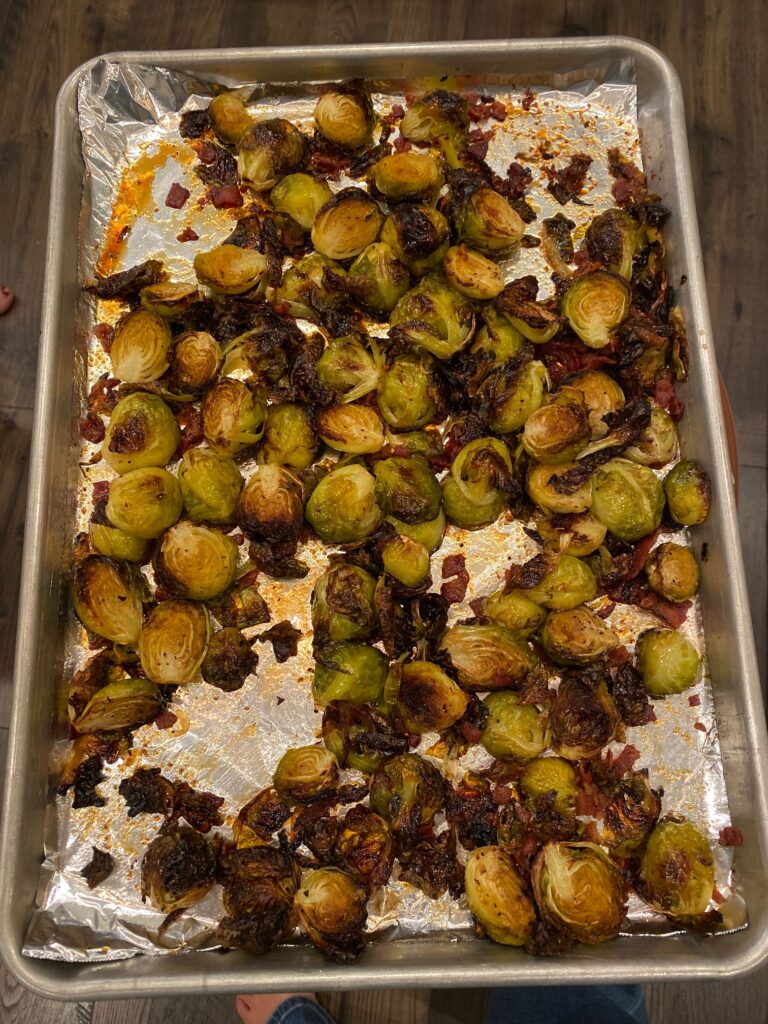 Bake at 400 for about 20 minutes. While they cook, prepare the sauce. Cider vinegar and real maple syrup are the core, plus a little brown sugar, onion powder, Dijon mustard, and Balsamic vinegar.
You can either crumble the bacon into the sauce before pouring it over the sprouts, or spread the bacon out on the pan and then pour the sauce over all of it.
Stick that pan back in the oven with the heat turned off while you finish the rest of your dinner prep, and enjoy when you're ready!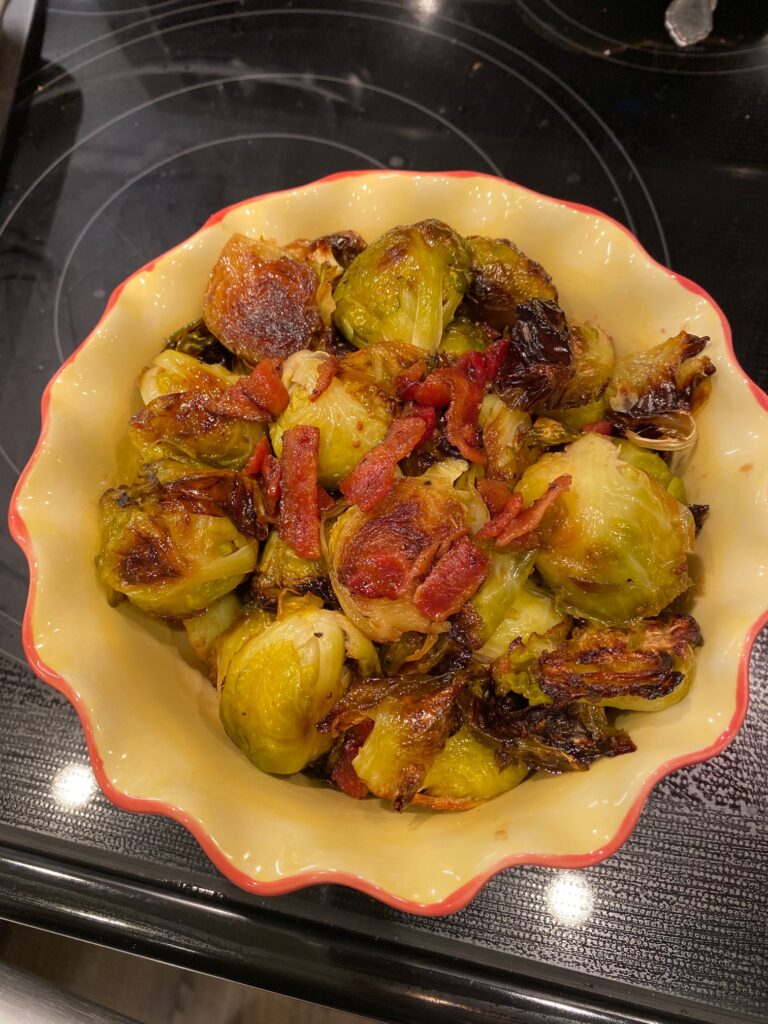 These Easy Roasted Brussels Sprouts are the perfect accent to any dinner!
If you're looking for other easy meal ideas, check out these other recipes from Team Juggling Normal:
Yield: 8 servings
Easy Roasted Brussels Sprouts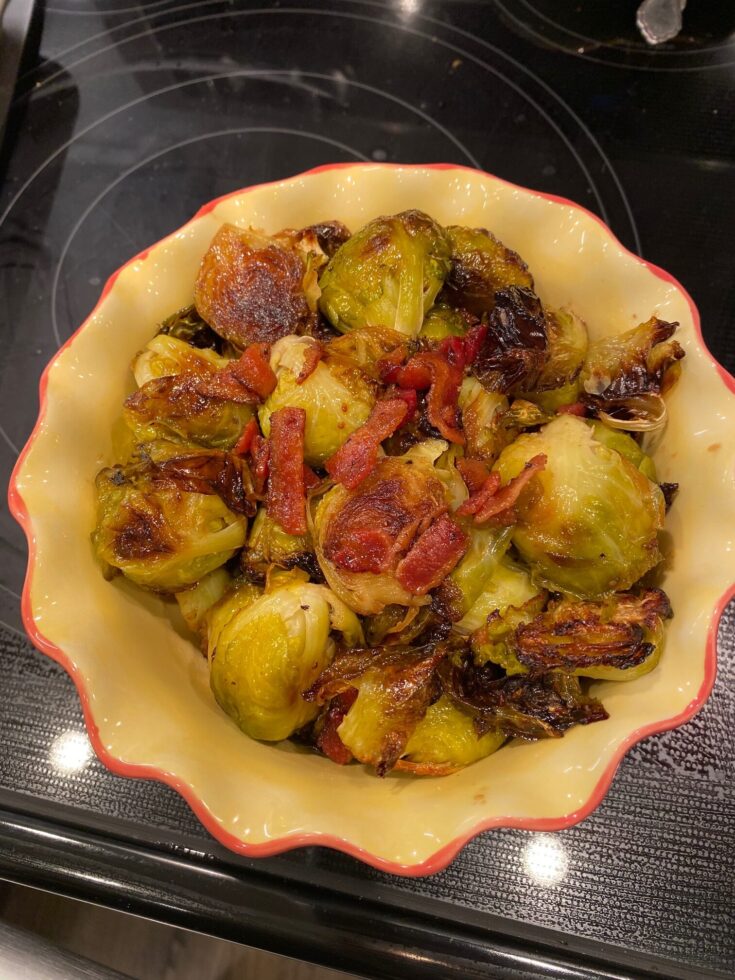 Delicious Easy Roasted Brussels Sprouts with bacon and maple syrup glaze
Additional Time
10 minutes
Ingredients
2 lbs fresh brussels sprouts
6-8 bacon strips, cooked (reserve fat)
2 T olive oil
salt
pepper
1/4 cup pure maple syrup
1/4 cup apple cider vinegar
1 T brown sugar
1 T onion powder
1/2 t Dijon mustard
1 T Balsamic vinegar
Instructions
Cut ends off sprouts and peel external leaves, dicard. For larger sprouts, cut in half
Toss in oil and enough bacon fat to coat
Spread out on foil-lined cookie sheet, sprinkle with salt and pepper
Bake at 400 for 20 minutes
Mix sauce ingredients
Remove from oven, add bacon crumbles and drizzle with sauce
Turn oven off, put pan back in oven with door ajar until ready to serve
Enjoy!

Nutrition Information:
Yield:
8
Serving Size:
8
Amount Per Serving:
Calories:

163
Total Fat:

8g
Saturated Fat:

2g
Trans Fat:

0g
Unsaturated Fat:

6g
Cholesterol:

11mg
Sodium:

302mg
Carbohydrates:

18g
Fiber:

3g
Sugar:

10g
Protein:

7g