Office Space
Whether you work at an actual office, work from home, or are a Stay at Home Mom (SAHM), chances are your home "office" has morphed into something else in the last year. Do you have multiple "offices" in your house? Have you and your spouse (and/or kids?) had to share the perfect Zoom backdrop? What does your office space look like these days? And do you like it?
Do you remember the 90's film, Office Space? Satire, dark humor, the little guy sticking it to the big, bad corporation. It's the kind of movie that is timeless. All the reasons we love the comedy are why I broke away from going into an office years ago. I love working for myself, running my business and being in charge of what I do (and my own schedule).
A dozen years ago, my husband firmly considered our home office "his" and I usually worked at the kitchen counter when we were both home. He started traveling all the time, and I gradually took over the office.
Then, the pandemic hit, and I made a rule for the kids that they are not allowed to Zoom from their bedrooms (with a few exceptions here and there). The teenager took over the office (and the official zoom backdrop of our framed degrees and nice photo collage behind the desk). My son now has a desk and desktop computer in the dining room, and the youngest uses my iPad for Zooms from the kitchen table.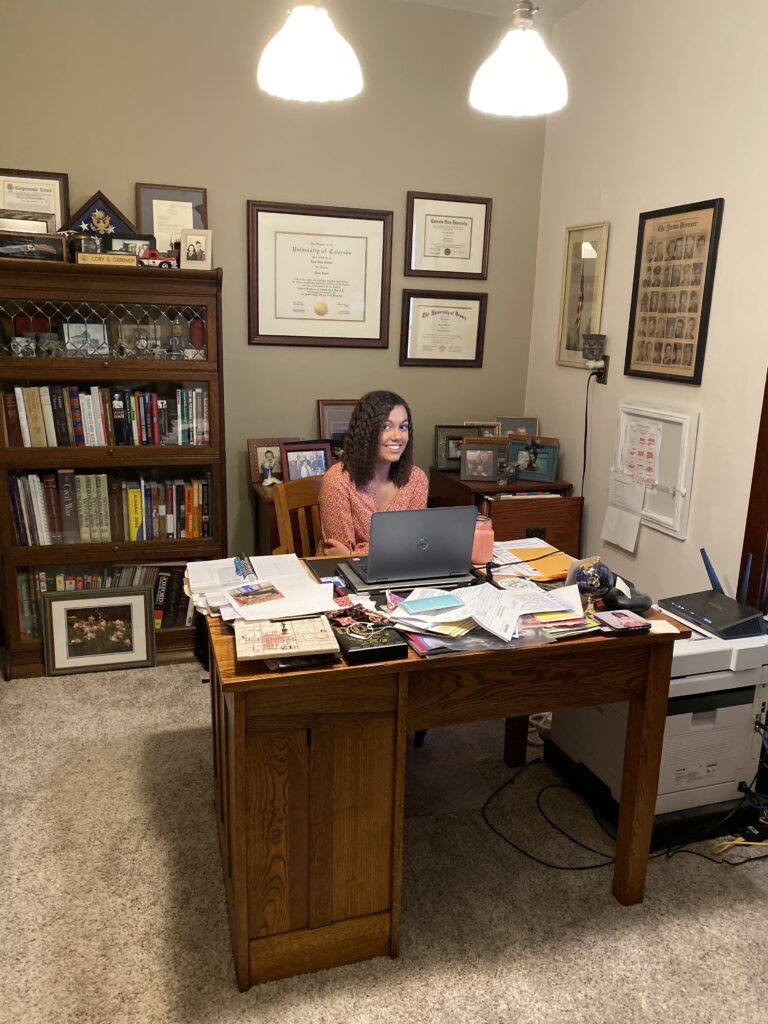 When we are all working and schooling from home, it is chaos and mom and dad end up working from wherever we can find a seat and some quiet.
Most of the time, though, my kids have been in school and we've only had a few weeks of remote learning this year. And it has been fabulous.
With all of that in mind, and knowing that I have worked from the home office for the last decade or so, my husband made a fantastic decision to move his office space to a family building a few blocks away that was not being used. Over the last couple of months, we have cleared out what was the family storage area, and it is going to be a pretty cool spot for his office.
Do you have a dream office space? What does it look like, to you?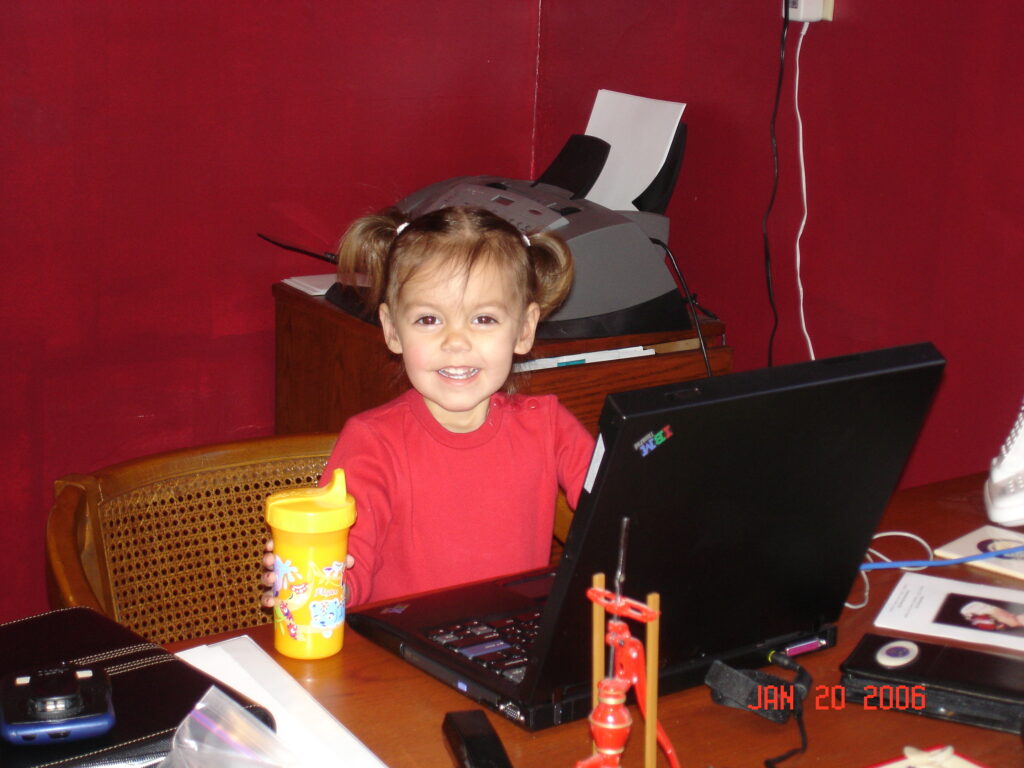 I love my home office. I have a long-term plan to add floor to ceiling library shelves, and do away with a closet that was added (over a window!) years ago. Those office renovations are far down the list of priorities for us, and may not happen until our kids all move out of the house. But, for now, I have a pretty nice home office.
One of the reasons I love working from home is being able to multi-task on all those pesky chores that drive us all crazy every day. I can put a load of laundry in, start the dishwasher, and then tackle a blog post or make a few calls, circle back to the laundry and unload the dishes, and then do some more work before planning out dinner.
I've talked before about my struggles to adjust to thinking of myself as a SAHM, but the decision I made years ago to start my own business and work for myself, from the house, was an easy one! I am fairly self-directed, organized, and I've worked from home in some capacity off and on for the last 20 years.
Even when I choose to work from the kitchen counter (about ½ of the time, honestly – mostly because it's close to the fireplace and the warmest spot in the house), I am thankful to have my office.
Do you or your spouse have a home office? Do you both have (separate) office space at home? Do you keep a desk in the kitchen? Do you share office space?
We have found that we can absolutely both work from home, and share our office/Zoom backdrop when we need to. But it is not a realistic permanent thing for us long term. My husband likes having work in a separate place from the house – it helps him to focus on work while he's there and relax more when he is home (not to say he can't do it all from here, and he has, but that's his preference). We are both type-A personalities, and as much as we work together on multiple levels as life partners, I think our office space separation now will be the best for us in the long term.
I was talking to my aunt and uncle yesterday about this, and both of them also preferred to go to their offices and have that separation – more because they wanted to "come home" and be able to relax. On the flip side of that, I love being able to get all the house things done throughout the day – my way of taking breaks from work – and thus have the chores done when everyone else comes home. Then we can all focus on enjoying our evening.
Our house was built in 1914, and has all the limitations of a house that was built over 100 years ago – especially closet space! One of the things I'm most thankful for – even if it means I don't have a guest room – is the office. Having a dedicated room for doing business, phone calls, being able to close the door during a Zoom or conference call, is so important. But, we also have 3 kids, and we really don't have room at this point for both of us to have dedicated offices here.
So…back to his office project. It's pretty exciting. We have refreshed the walls with a new coat of paint, and the offices are getting new carpet. The main space – what used to be the showroom of the family tractor dealership – is going to be a "family cave" hangout. A place for our kids to go with friends after school and Saturday afternoons. A place for us to hang out with our friends and their kids. We are adding touches of old barn wood and tin, a barn door that used to be the back door of the dealership, and plenty of vintage signs that we've picked up over the years.
Did you read my Kid-Friendly post a couple weeks ago? I had this project in mind when I wrote it!
If you are looking for a change of scenery for your office space, I encourage you to think outside the box for ways to change it to what you really want it to be – and maybe find a multipurpose use that works for everyone. If your kids are in school during the day, make the most of that for your home office while they're gone…even if (or especially if) your office is the family room!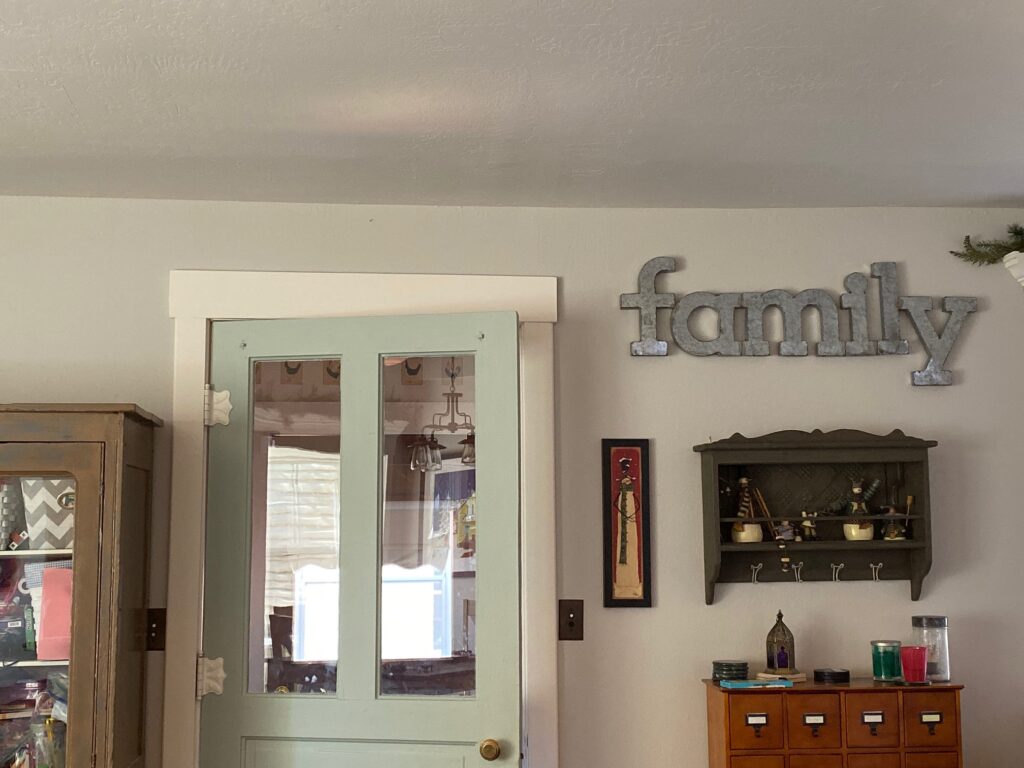 I suspect that I'll still be kicked out of my home office here and there when everyone is home, or trade places with the husband when we need to. And that works for us! One of these days, I will even get the library shelves I really want.
Friends, keep dreaming. Keep imagining what you want for yourself. And as long as you plug away a little at a time, you will get there. Whether it's a business idea, home office space, a fun kids play area, or something else, go for it!