Sara's Completely Biased Guide to Holiday Travel, Part 3: Italy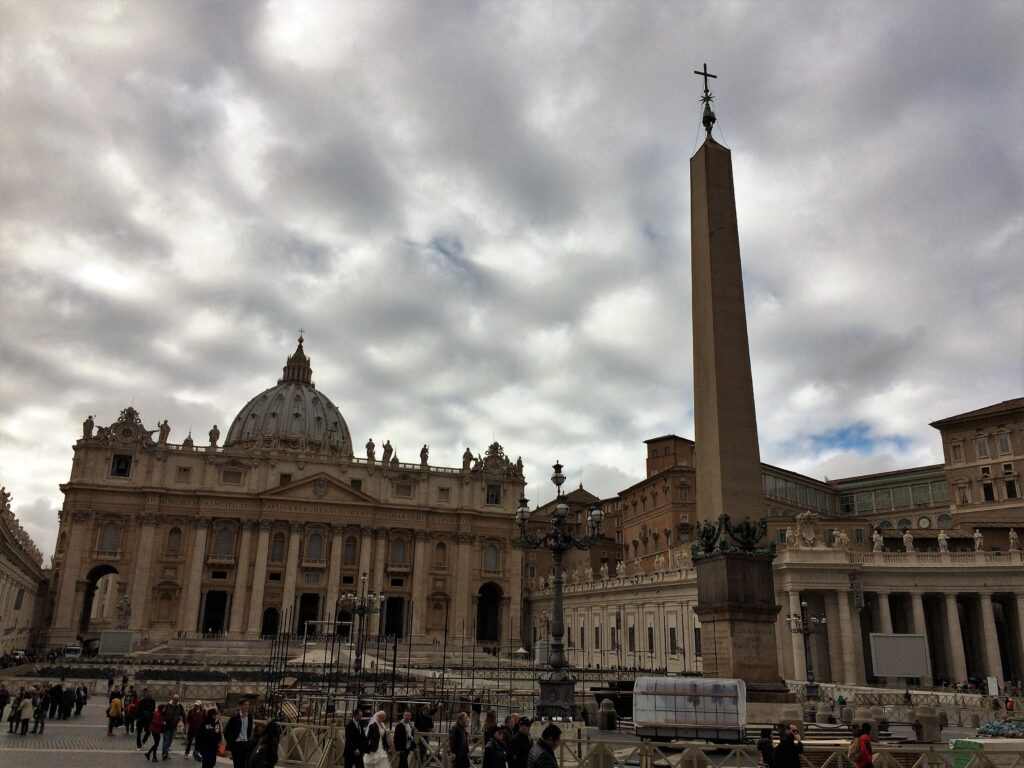 Ok, you should know right now Italy is just about my favorite destination, and the country in Europe where I have spent the most time. We have taken kids to Italy over Thanksgiving and early December on two different occasions, for about 10 days each time. Once again, traveling at this time allows for gorgeous weather, no crowds, and delicious food (can you say truffle season?). Thus, once again, you are getting my Completely Biased Guide to off-season holiday travel with kids to the Siena area (look for future kids travel guides to Florence), Rome, Amalfi, and Naples.
If you missed my first two in this series, check out the Completely Biased Guide to France and Portugal from last week!
Siena and surrounding:
We have spent a good deal of time in and around Florence – a total of about 12 weeks at this point, but when we were ready to take our daughter on her first trip to Europe at 7 months old, we decided to mix it up and stay outside the tiny village of Viagliagli, near Siena. Like our other destinations, we chose this location for easy access to day trips. You will need a car for staying in the countryside at this time of year and for exploring the sites I recommend.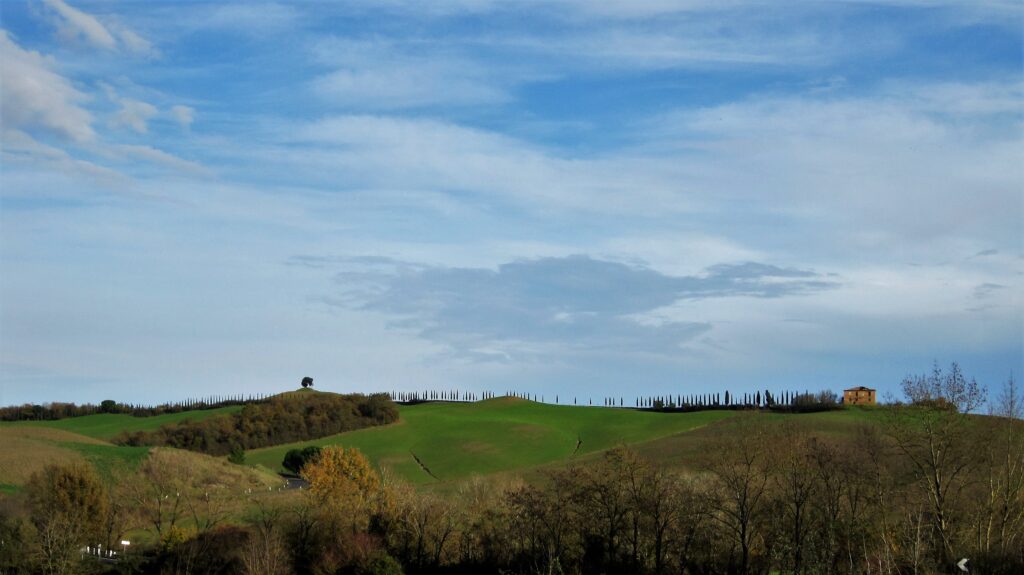 What to do:
The sky is the limit! Obviously, go into Siena and visit the cathedral. Let your kids pretend they are the horses running in the Palio in the Campo.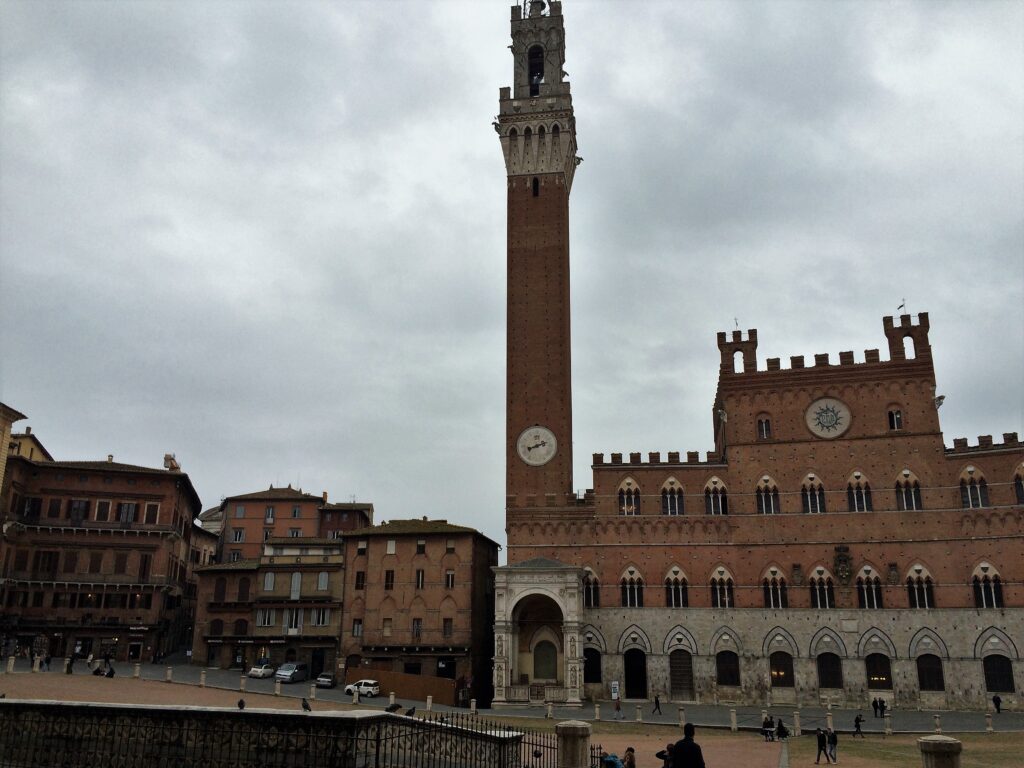 Another fun morning trip for kids and adults is San Gimignano, with its 14 remaining towers. The pedestrian only streets are safe for running and exploring. Pop into the Collegiata to see the Ghirlandaio frescoes. The kids will wait. One of my favorite stops on this particular trip was San Galgano, a Cistercian abbey in ruins. You've probably noticed by now that I have a thing for ancient buildings in ruins – churches, castles, Roman and Greek temples. You pair it with a cave church hidden in the mountains and just try to keep me away. This abbey is made for kid and adult exploring and photographing.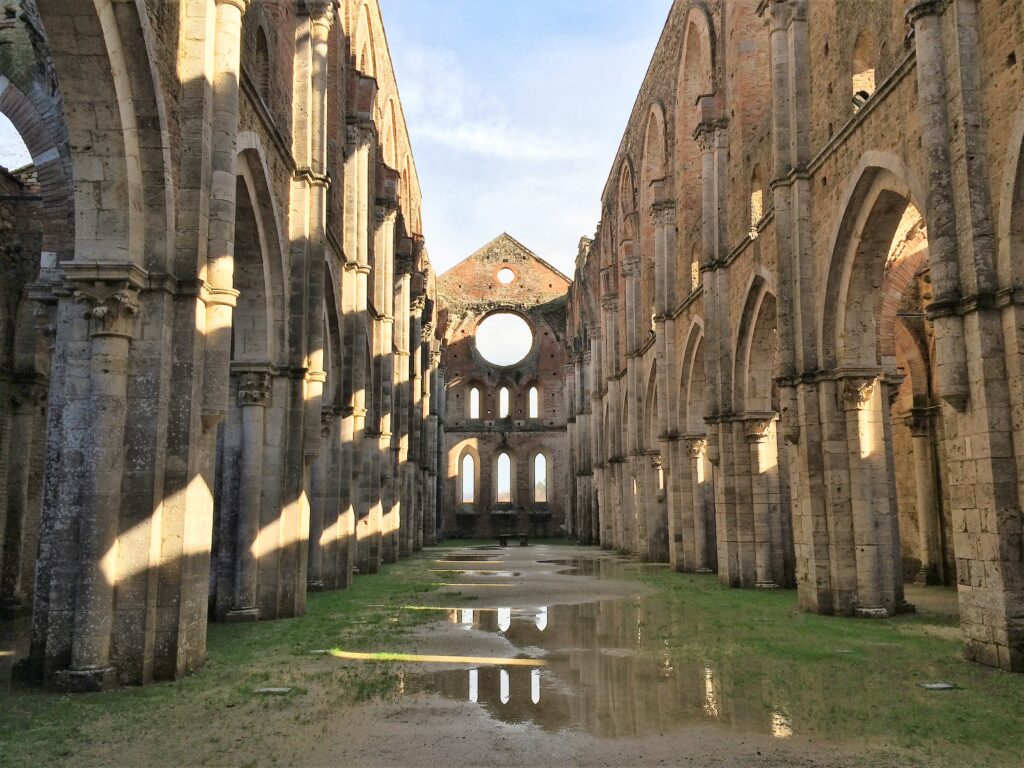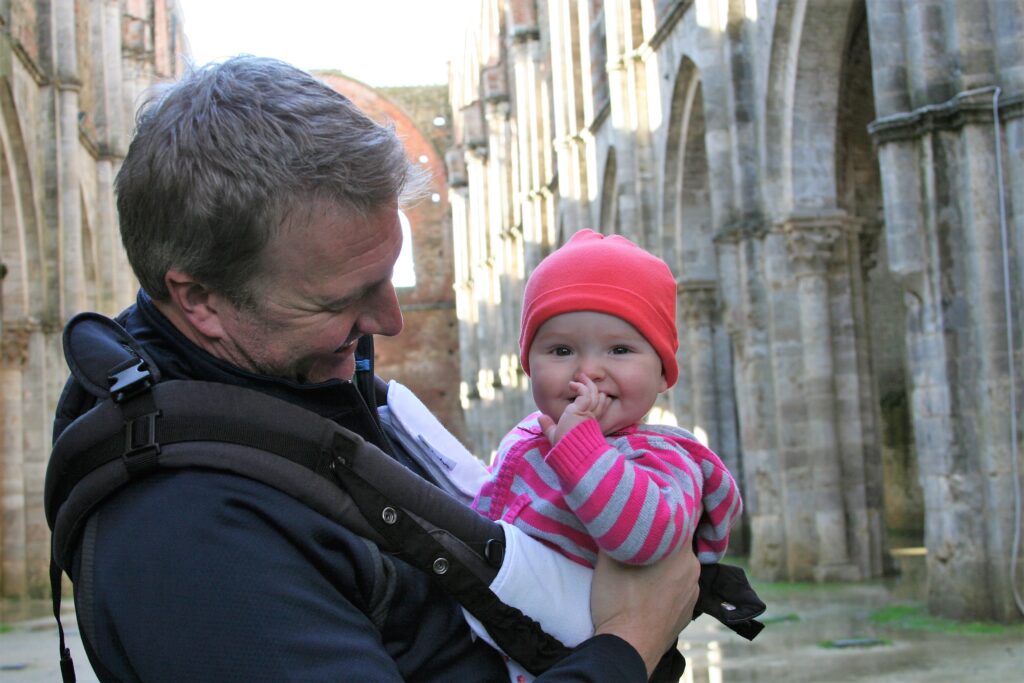 Do not forget about Cortona and the shockingly wonderful Museo Diocesano – the Annunciation of Cortona by Fra Angelico (another version can be found in San Marco in Florence) is worth the price of admission. The museum is small, thus perfect for introducing kids to art, sculpture, and patience in a short period of time. Volterra with its Etruscan gate, walls, and Roman theater are all perfect for kids (and any fans of the Twilight books). Now, it's fall/winter and you're in Chianti – you need wine. It's past harvest, but the vines are all vibrant orange and yellow.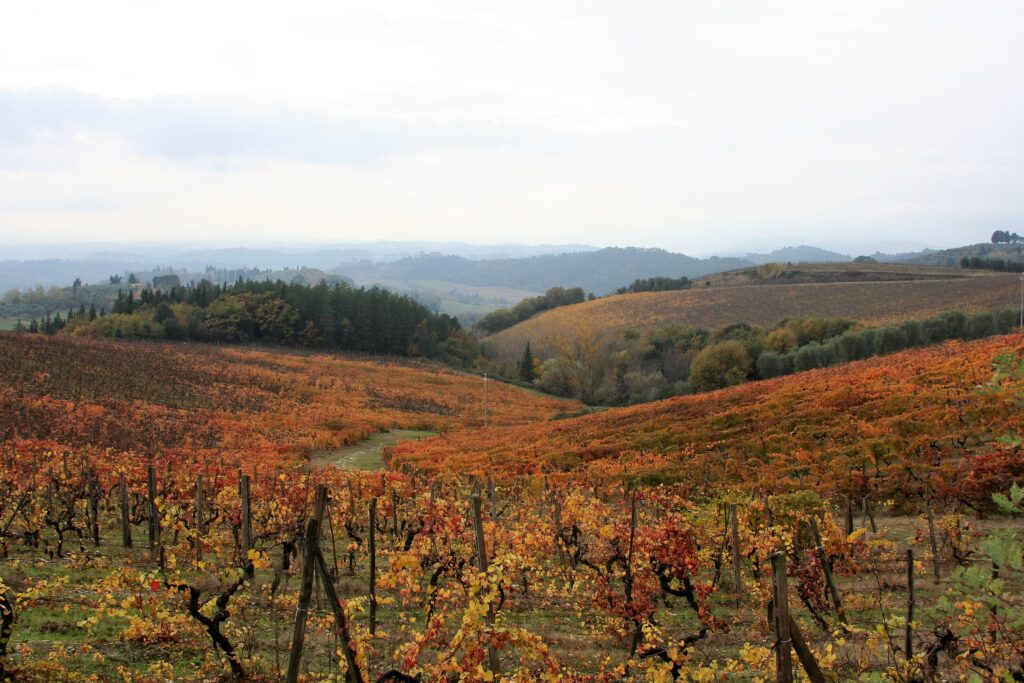 I can suggest Montalcino and Vineria Le Potazzine, a friendly tasting room with delicious charcuterie and accommodating for a baby in tow. Do not forget about Radda, Greve, and Panzano. In Greve, check out the Macelleria Falorni (an amazing butcher shop, which kids will find fascinating. Added bonus – they have wine on tap for easy tasting.). In all these places, we were the only tourists in sight. I would hesitate to recommend similar places in the summer, as they are positively heaving with tourists. In the off season, things are calm, friendly, and festive for the holidays.
We also went to Florence on this trip to see friends; look for a future post with more Florentine ideas for kids.
Where to stay:
We found this amazing farm, Il Piaggione di Serravalle, outside Vagliagli and stayed in La Nostra apartment. The owners made us dinner two separate times, which was nothing short of spectacular, complete with homemade wine and olive oil. The views were Tuscan perfection, there is a pool for warmer months, the resident cats keep you entertained, and a giant pig hangs out under the trees. This is still very rural, and we saw wild boar hunters pass through once.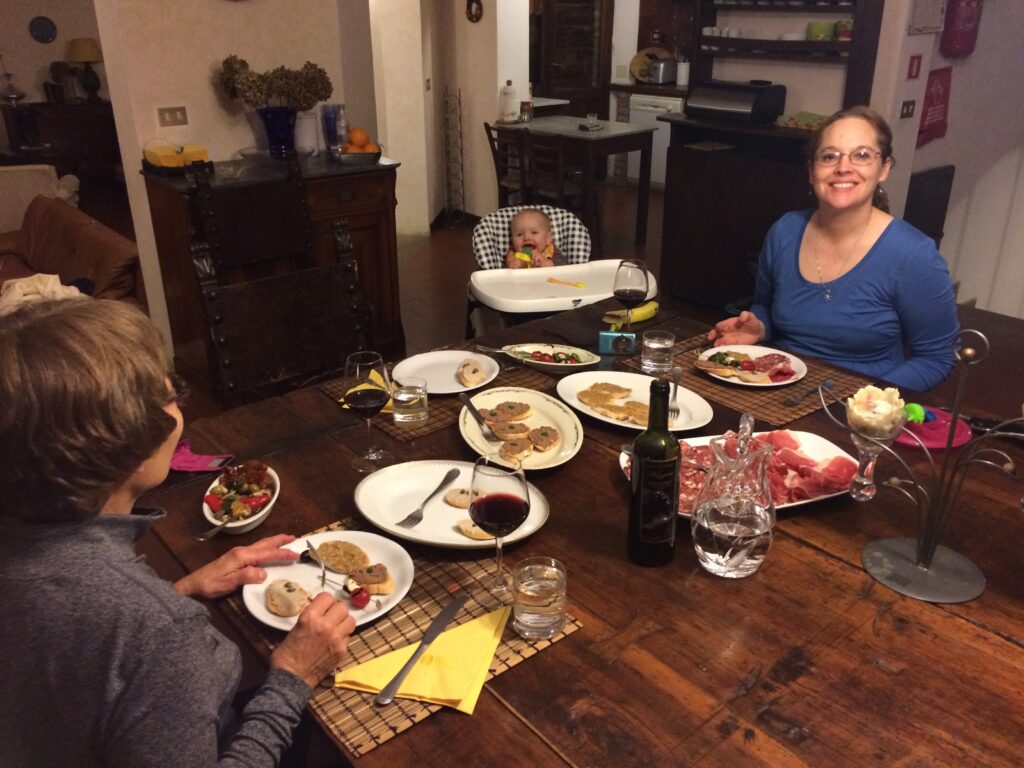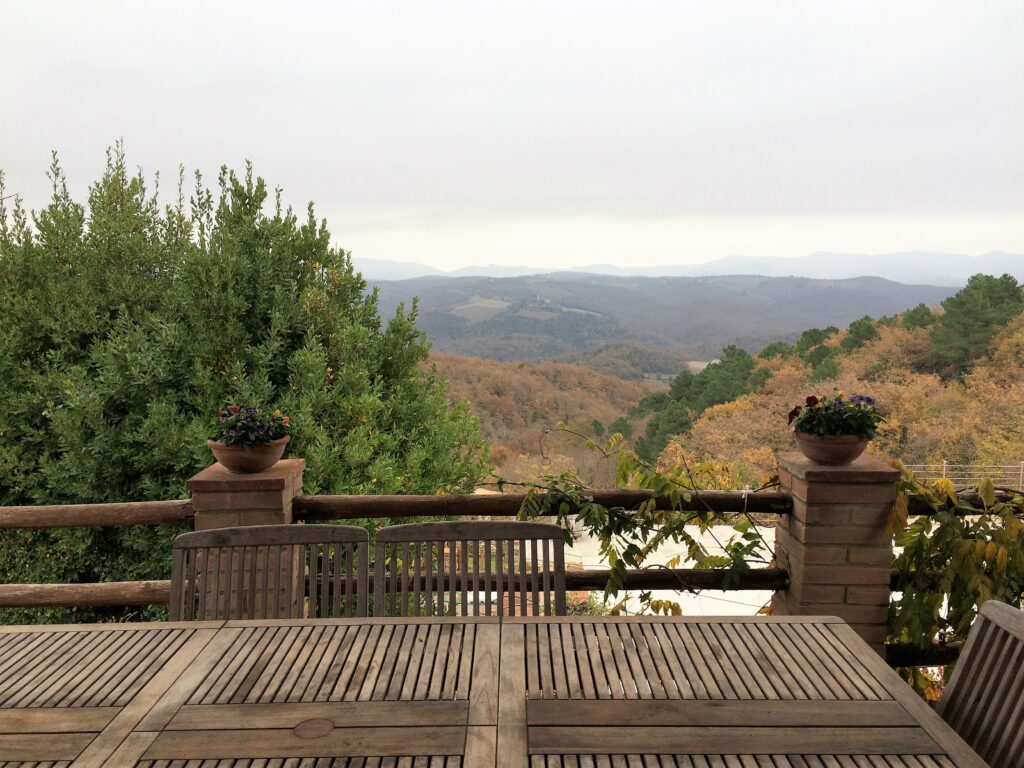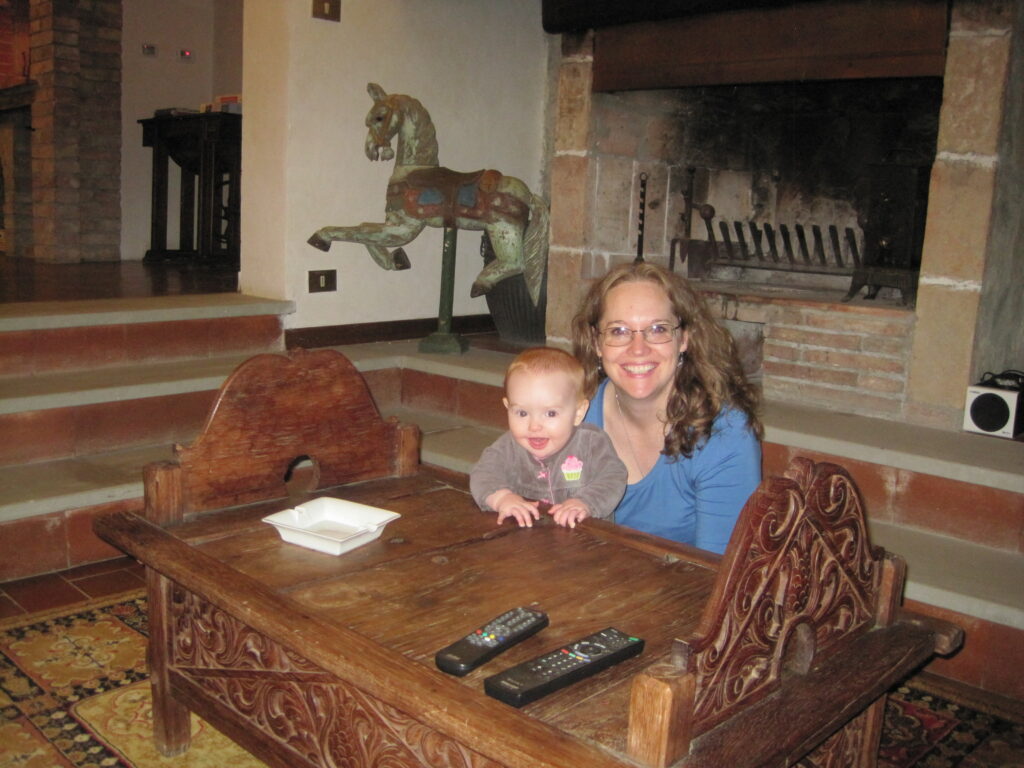 Where to eat:
This time of year in Italy means fresh truffles, cinghiale (wild boar), grilled game birds, ribollita (literally reboiled – a sublime white bean and spinach hearty soup), and cozy, tourist free restaurants. Just up the road from our agriturismo was Osteria Cacio e Pepe. Try the white truffle pasta, roast pork, or the grilled quail. My 7 month old particularly liked chewing on a pork bone. In Castellina in Chianti, do not miss Osteria Rosticceria Il Re Gallo and their Fantasia di Tartufo (truffle fantasy and boy is it – numerous truffle antipasti). Their gorgonzola pasta and cinghiale stew were also particularly delicious. If you're craving pizza in Castellina (which of course you are), try Pizzeria il Fondaccio. In Cortona, Trattoria Tuscana serves pasta with copious amounts of shaved truffles. Every single one of these are kid tested and mom approved.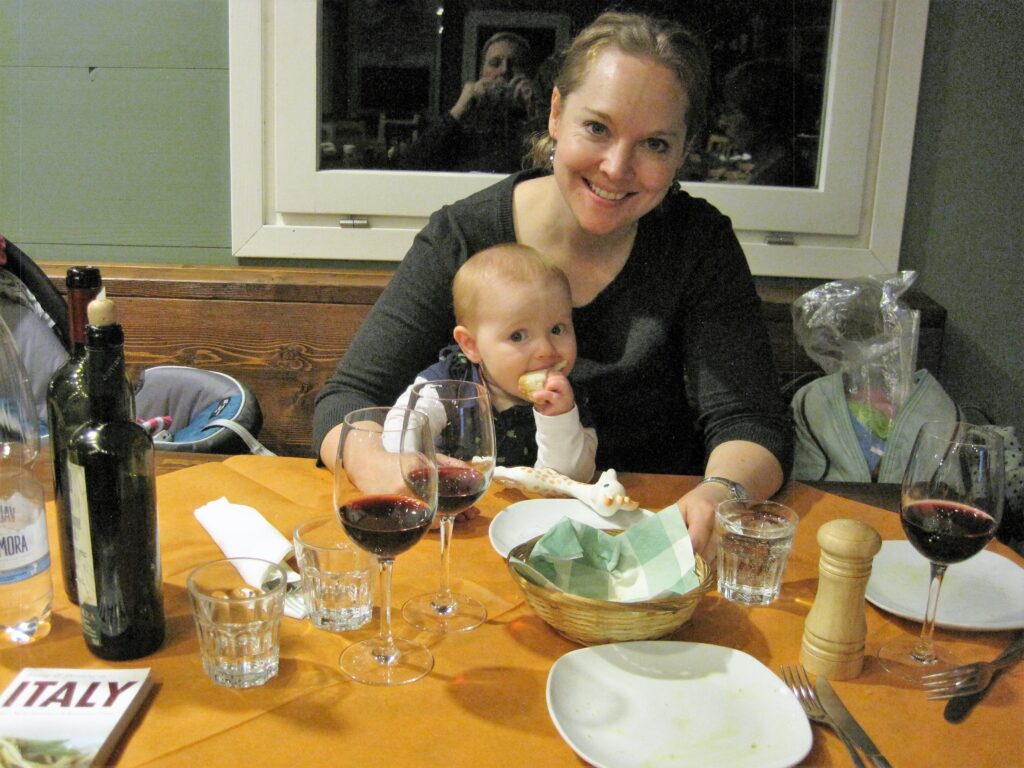 Rome:
Rome is absolutely beautiful at the holidays. The major piazzas in the city become festive Christmas markets. The artisan streets sell their wares as you stroll by on your way to dinner, and you can pick up some hand-blown glass earrings for gifts (hypothetically).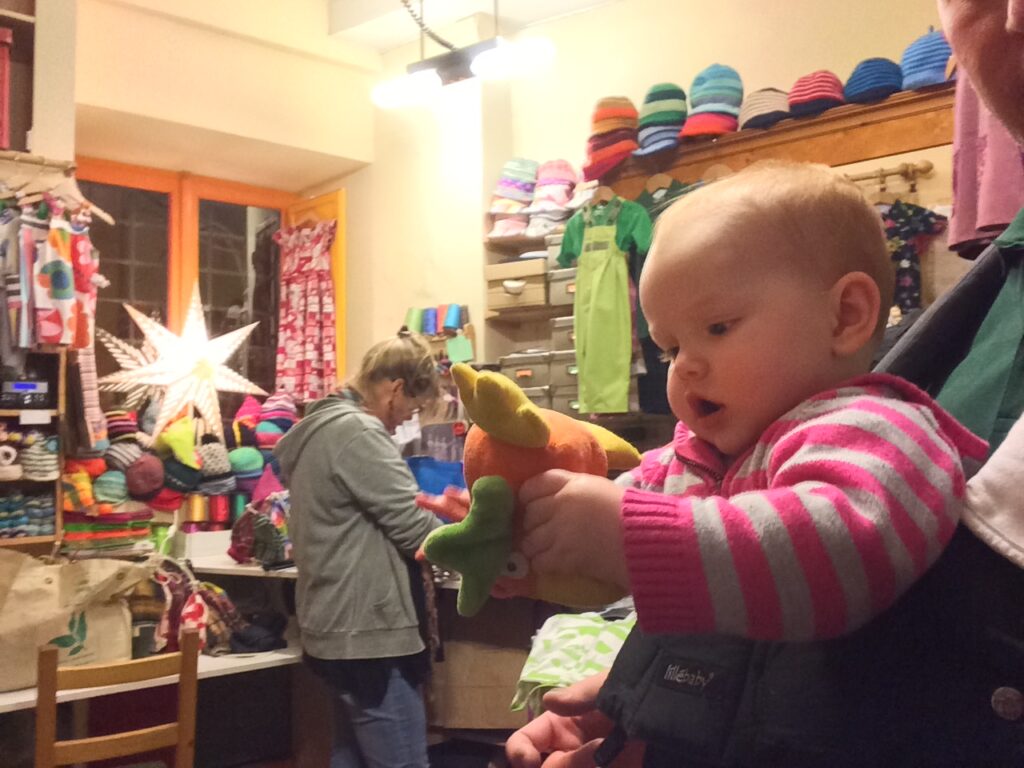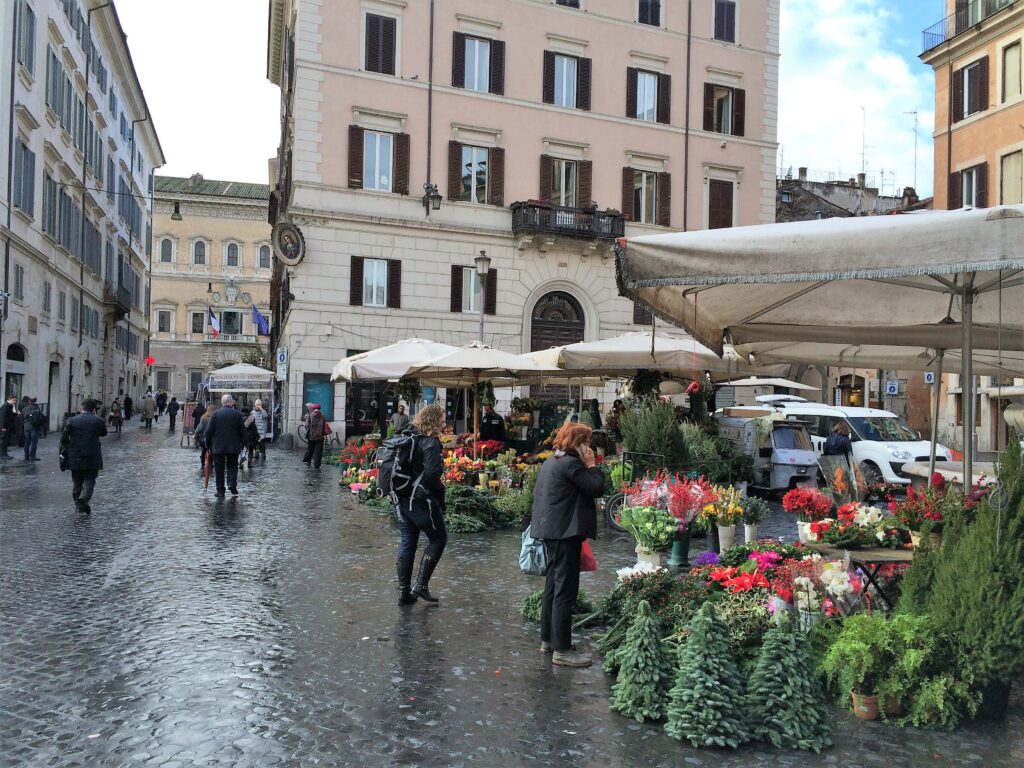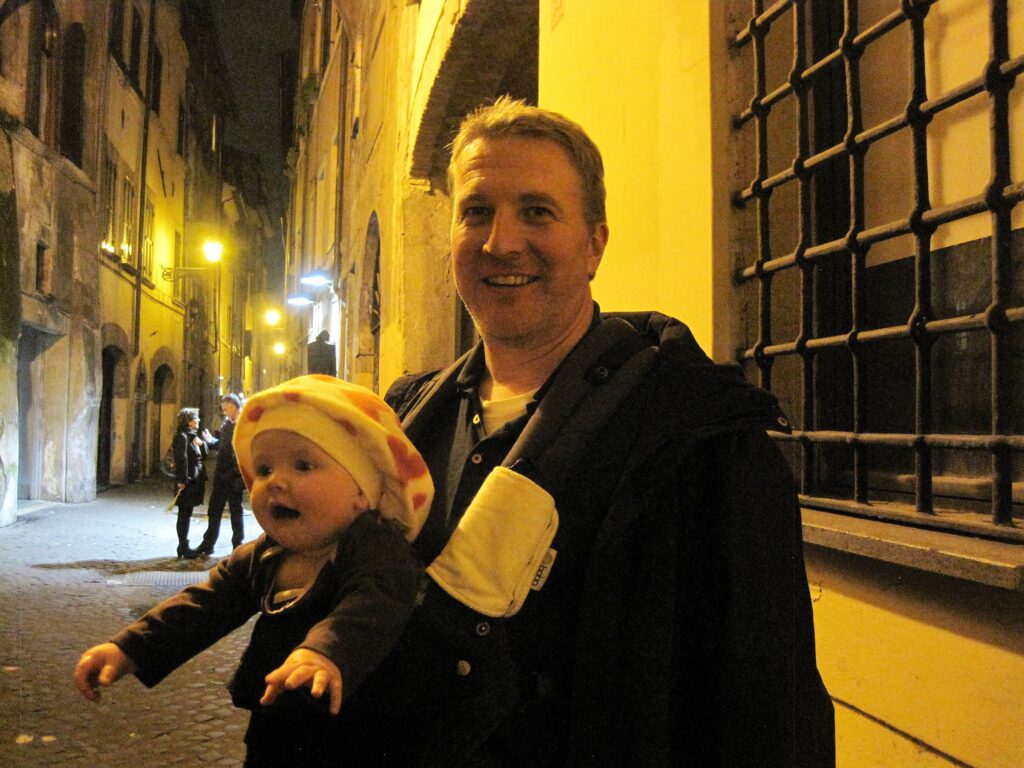 What to do:
Again, you are only limited by your own imagination or endurance in Rome. With kids, I highly recommend a day at the Roman Forum and Palatine Hill. The Colosseum is at one end of the Forum, so if you have the energy, do it all in one day. Don't miss throwing some coins into the Trevi Fountain and have the kids make a wish to return one day. Piazza Navona with its Fontana dei Quatro Fiumi and Christmas market are crowd pleasers. Kids also find the Pantheon interesting, the older the better to appreciate its ancientness and the tombs. My final major suggestion is the Vatican and the Sistine Chapel and St. Peter's Cathedral. Buy advance tickets for a specific time. This eliminates the need to wait in line for longer than about 2 minutes. However, at this time of the year, the lines are minimal, and we had the Sistine Chapel practically to ourselves. The normally terse Sistine Chapel guards even sang quiet little songs to E, and the Swiss Guards cracked a couple smiles in her direction. Everyone seemed to be in a better mood at Christmas.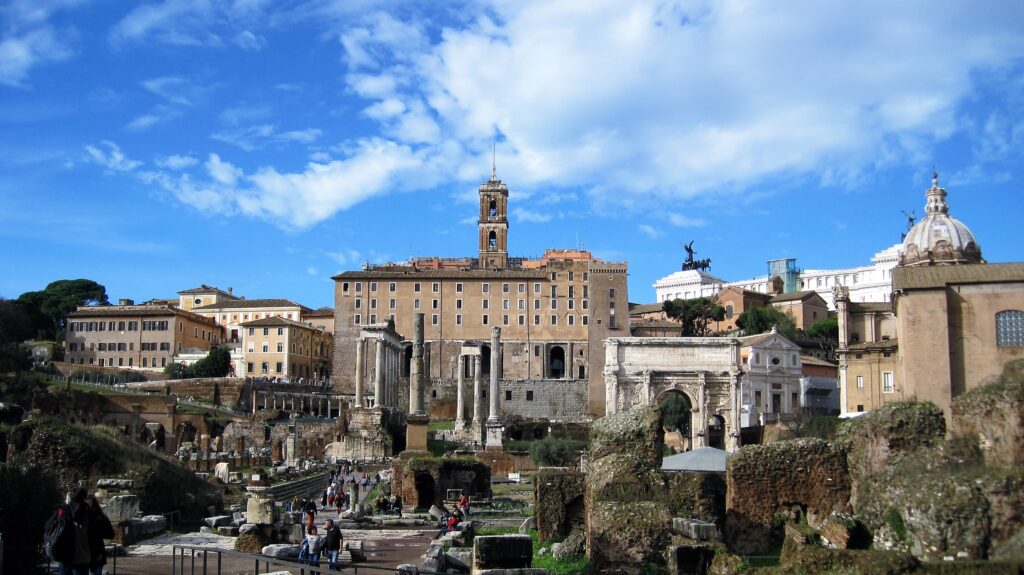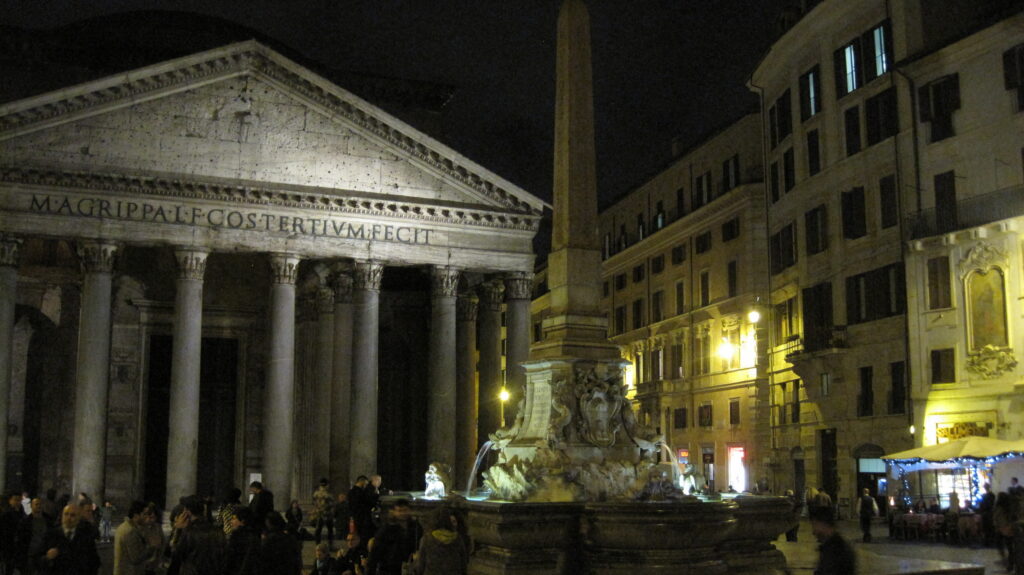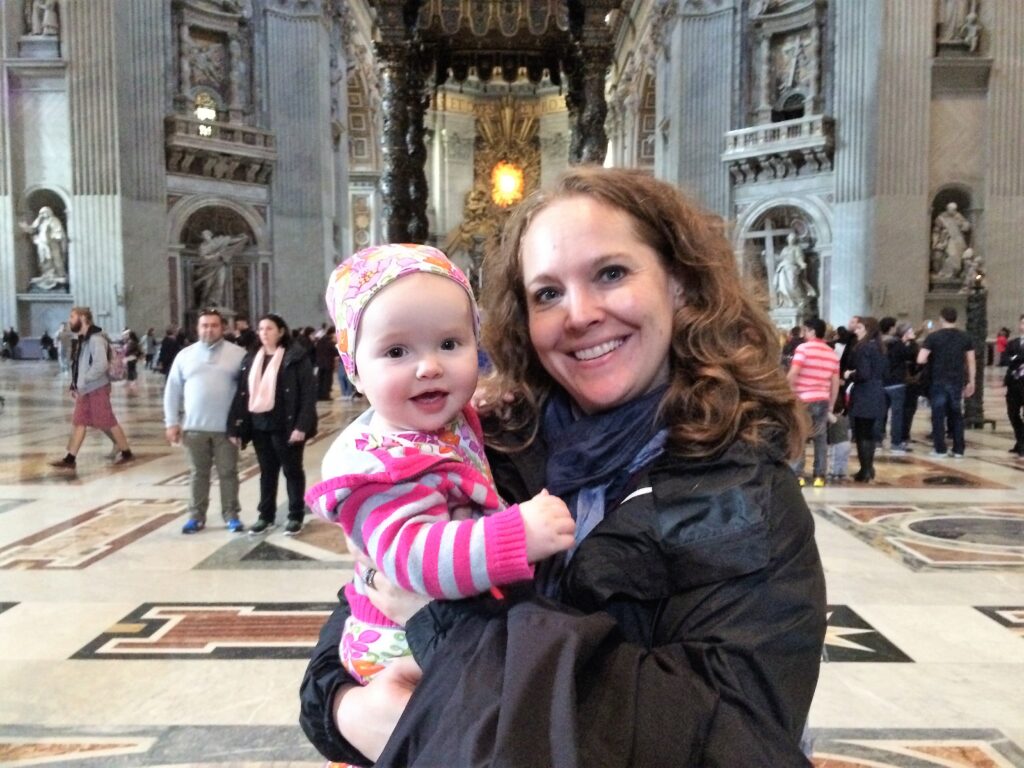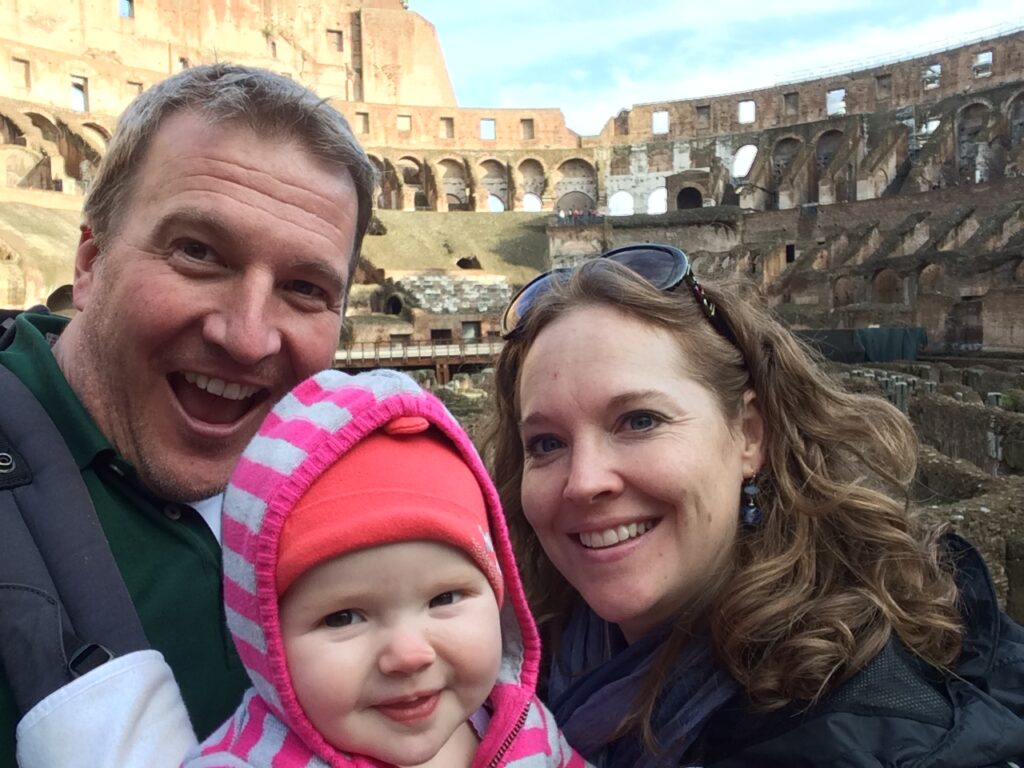 Where to stay:
We stayed steps from Campo de Fiori and a few minutes from Piazza Navona, in an apartment called Monserrato. It had two well-appointed bedrooms and a full-service kitchen. We made breakfast every morning, usually supplemented by fresh croissants. We have also stayed in numerous hotels in Rome over the years, but for longer than one night and with kids, I always suggest an apartment (see traveling vs. vacation). Not only do you get into the flow of the neighborhood, but it's also usually bigger and often cheaper.
Where to eat:
Again, you can hardly go wrong in Rome, but like Paris, steer clear of the overly touristy places with English menus. Ask the manager or owner of your apartment for suggestions. A few good suggestions for kids: Osteria da Mario. The amatriciana and veal meatballs (sorry if you're opposed; I grew up on a ranch, so…) were delicious, as was the truffle pasta. Another great suggestion for kids: Taverna Lucifero. They brought us a delicious assortment of antipasti to share and entertained the baby. Try the saltimbocca. In Rome, be sure to go to the Trastevere neighborhood and order cacio e pepi in just about any hole in the wall restaurant.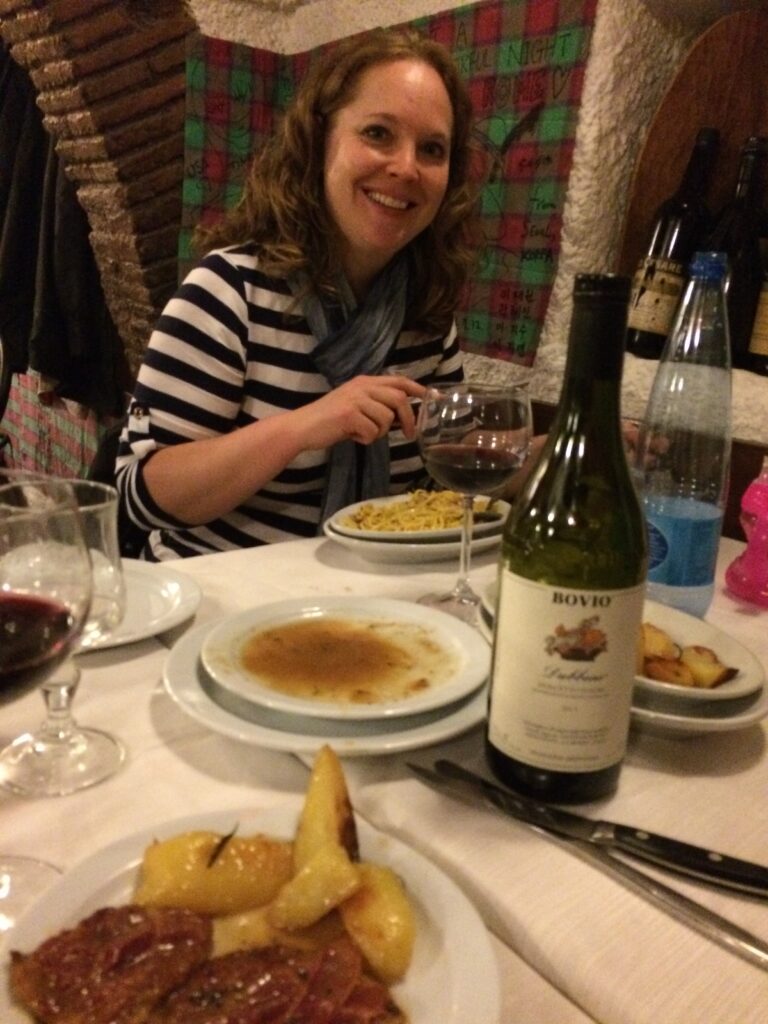 Amalfi:
For my 40th birthday, we loaded up our now two kids (9 months and 3 at the time) and flew to Naples, Italy in late November. We rented a car and drove to the Amalfi Coast, a place we had only briefly visited on earlier trips. Most people, rightfully, think of the Amalfi Coast as a summer destination. I argue fall/winter is a great time to visit, too. The weather is perfect, the sites are open and empty, and of course, the food is not too bad. To be fair, you cannot swim at this time of year, but the other things make up for that in my mind. And all parts of Italy are perfect with kids at any time of the year and at any age (well, we have not tried older kids yet, so I am speculating). We have found the further south we go in Italy, the more loving the people get towards small children. We decided to base out of Atrani, as it is less touristy than Positano or even Amalfi.
What to do:
We found just strolling the streets of Amalfi and Atrani to be relaxing and rejuvenating. The cathedral in Amalfi Town is not to be missed. We spent a whole afternoon wandering and exploring the Villa Rufolo, an 800-year-old Arab-style palace with formal gardens, in Ravello. Our 3-year-old loved exploring this place and looking for lemon trees. One of my absolute favorite places in all of Italy (we have been three times) is a short drive from Amalfi and is absolutely worth a day's visit. It is Paestum – a Greek city founded in the 7th century. As you approach across the flat plains south of Salerno, you suddenly come upon three nearly fully intact Greek temples. Spend the day playing ancient Greeks or strike a statue pose among the temple columns.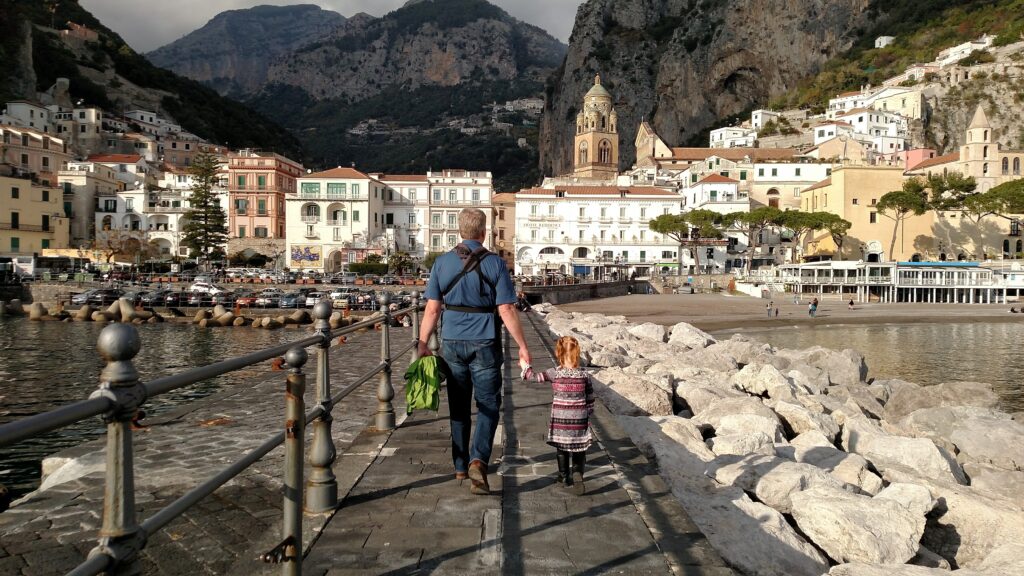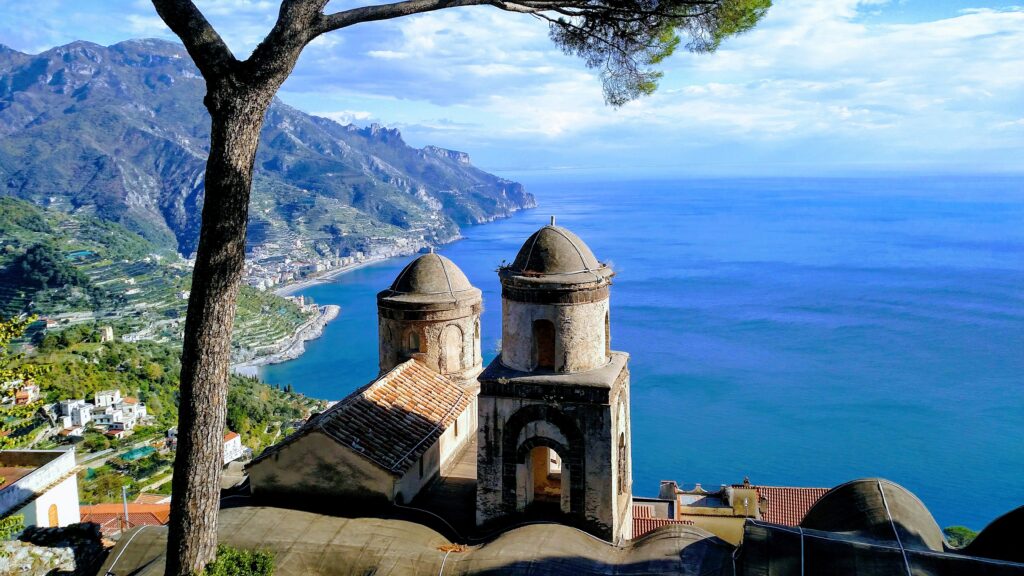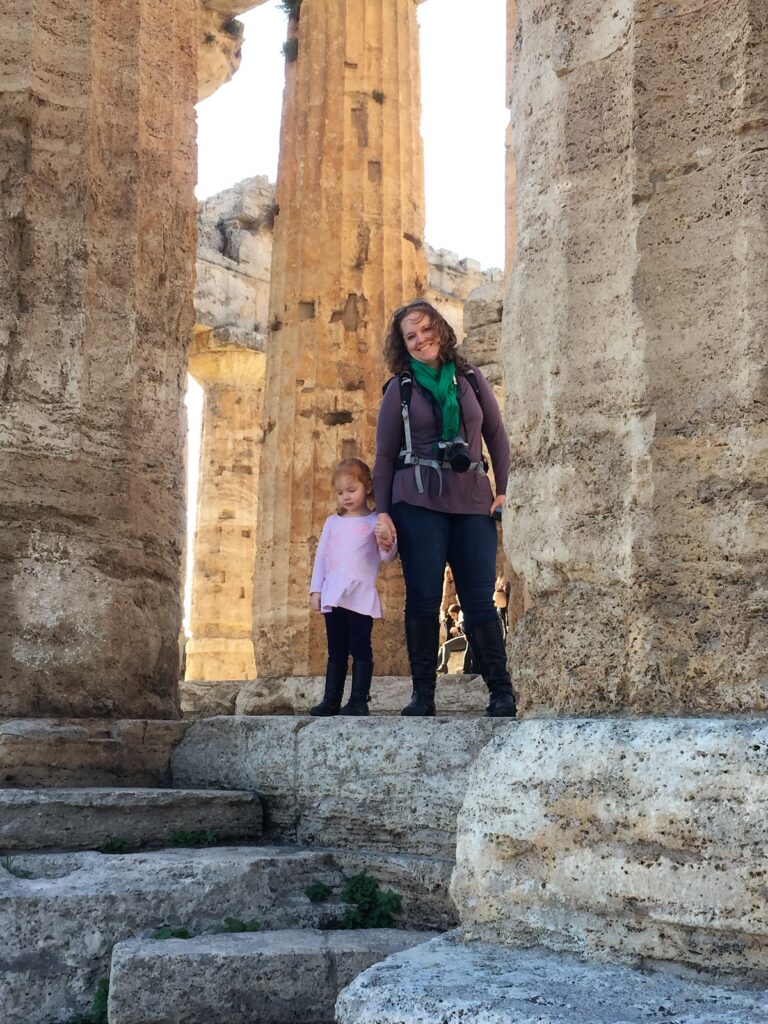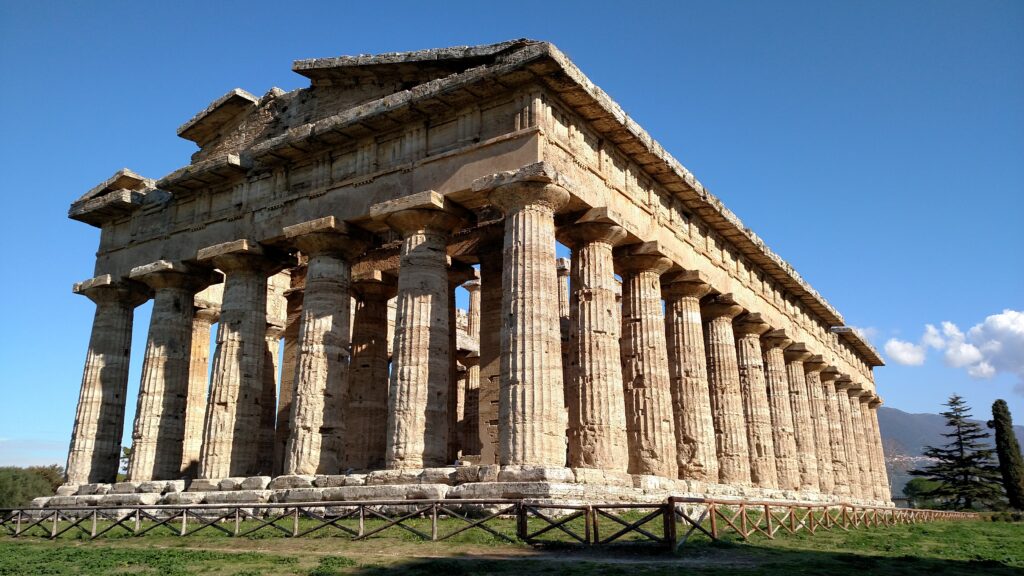 Where to stay:
Casa Adrjana in Atrani was the perfect landing place after a long flight, and basecamp for a few days. It is a two bedroom, with protected parking. There is a small store right downstairs, perfect for a morning cappuccino and cornetto. There is a decent sized Despar grocery store on the road to Ravello. The selling points of this apartment are the kind host and the amazing yard and view. We had breakfast outside on the patio every morning. In November.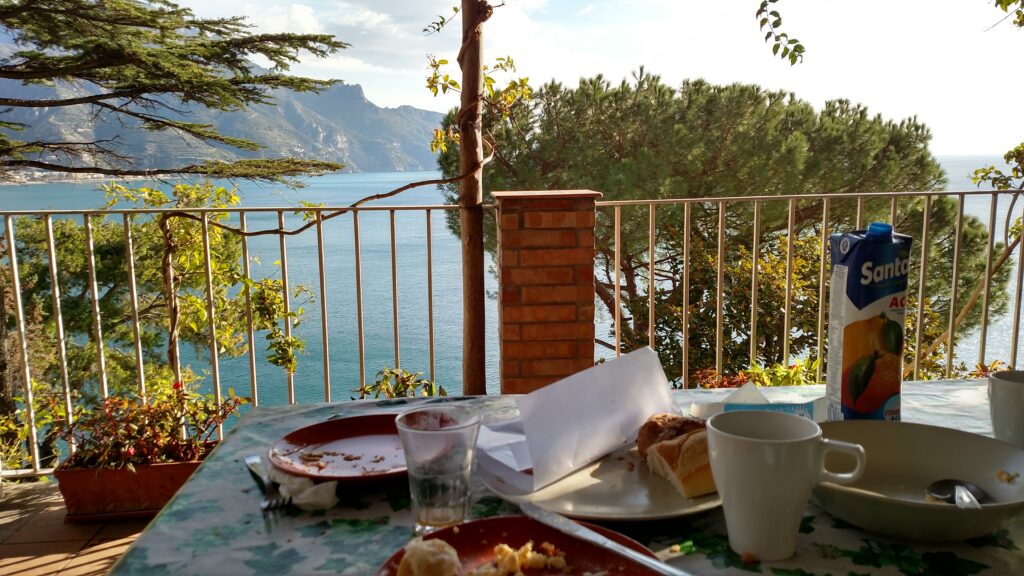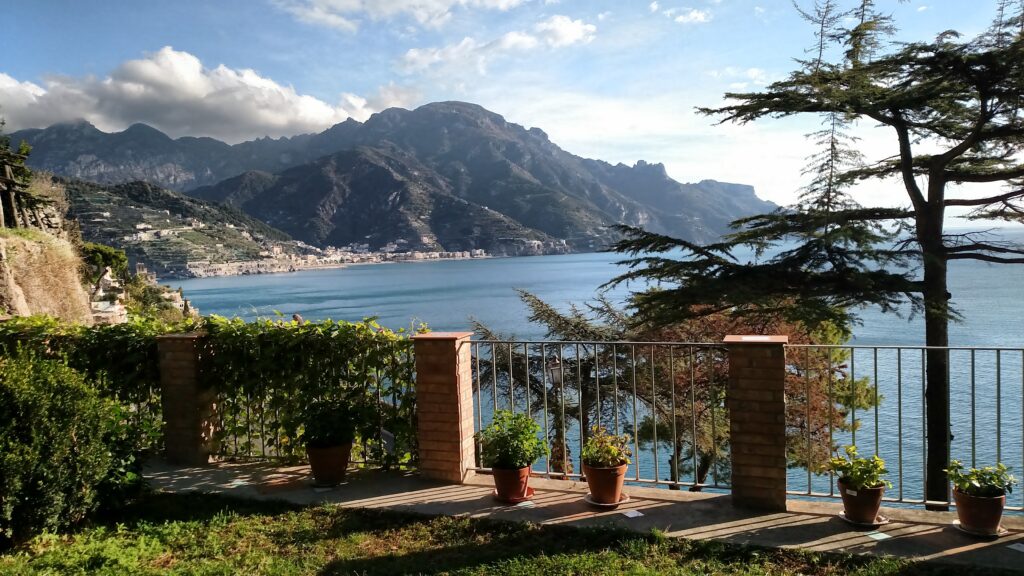 Where to eat:
Again, it's hard to go wrong in Italy. Get buffalo mozzarella on everything, but especially in huge balls on your pizza. Da Maria in Amalfi and Ristorante il Veliero in Atrani took particularly good care of us. Eat seafood like it's your job!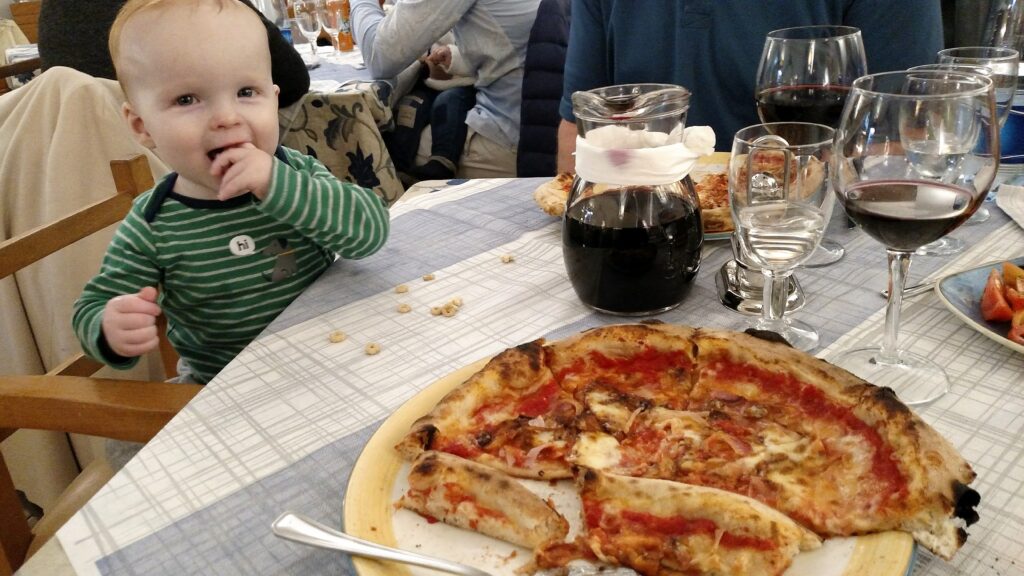 Naples:
Naples is one of my very favorite Italian cities, but I fully appreciate it is not for everyone or for less adventurous travelers. If your idea of Italy is leisurely driving through Chianti and strolling through a quiet gallery, this isn't for you. If Rome is a bit too hectic for you, I strongly advise against Naples. It's the definition of a bustling European city. But, if you like history (Naples is an ancient city and has an exceptionally rich history), art, architecture, authentic pizza (Oh. Em. Gee. The PIZZA.) and great seafood, hidden churches with amazing artwork, the best street-food in Europe, and absolute chaos, this is your place. We never once felt unsafe, we walked all over the city, took the train to Pompeii, and rode the Metro a few times. Children are very welcome in all of Italy, but we felt especially here. Also, once again the weather was perfection and well…the food. If you love Italy and have been more than once and want something off the well-beaten Italian tourist track, give Naples a try.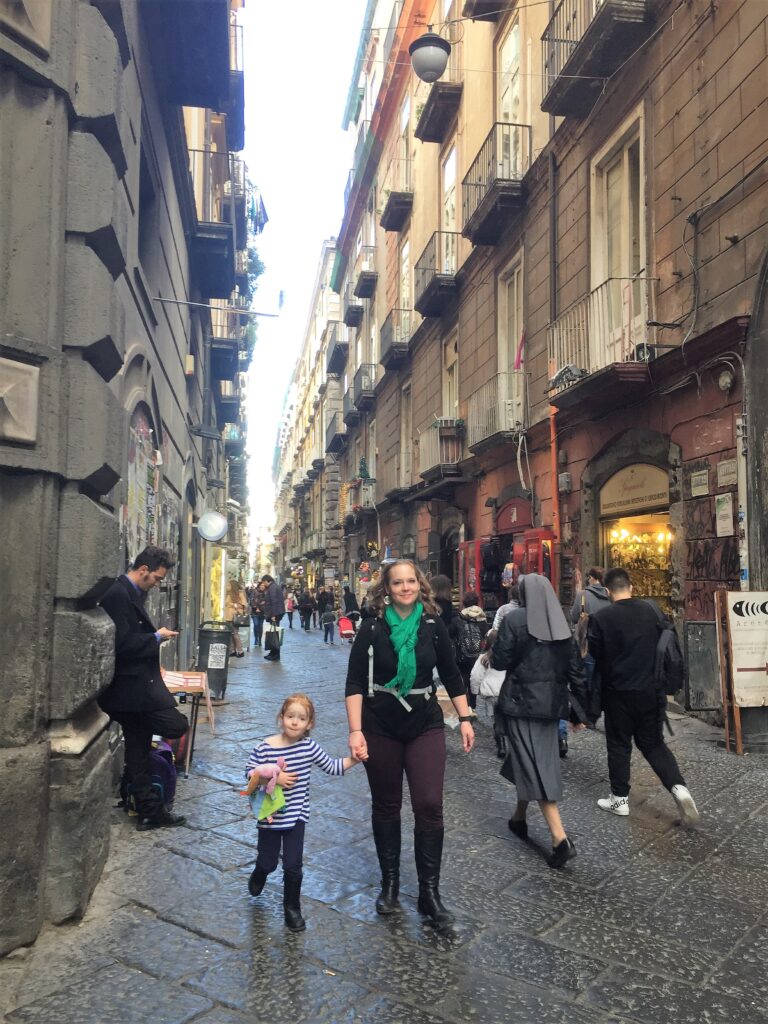 What to do:
In Naples, we enjoyed walking the streets and trying all the street food. While we don't make a point of visiting every single museum and gallery when traveling with kids, we usually try to sneak in a few and when we decided upon Naples, the Archaeological Museum was on our "must see" list. The Farnese Bull was carved out of single piece of marble in the early third century AD and was found at the Baths of Caracalla in Rome. It even made the 3-year-old pause. We also took a funicular up to the San Martino monastery, which was finished in 1368. The views of the Bay of Naples, the city, and Mt. Vesuvius are worth it. The 3-year-old was mostly fascinated by the resident monastery kitties.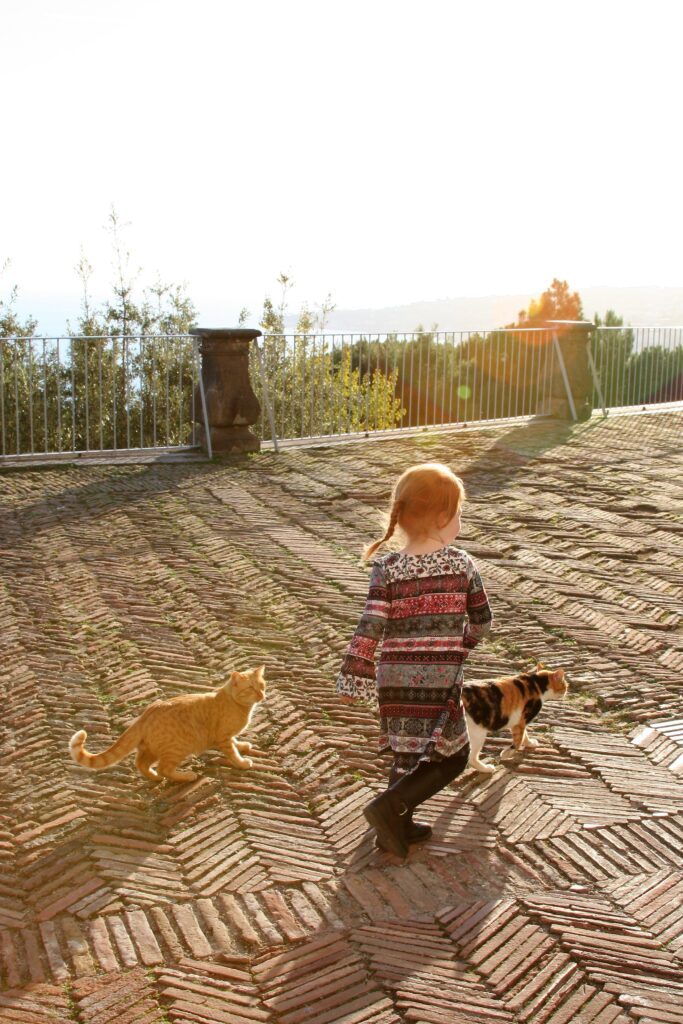 From Naples, it's an easy train ride to either Pompeii or Herculaneum. At this time of year, I suggest Pompeii. In the summer, Herculaneum is devoid of tourists, and a delightful stop. Pompeii is a perfect place for kids and exploring, and they have a small café on sight in case you run out of snacks.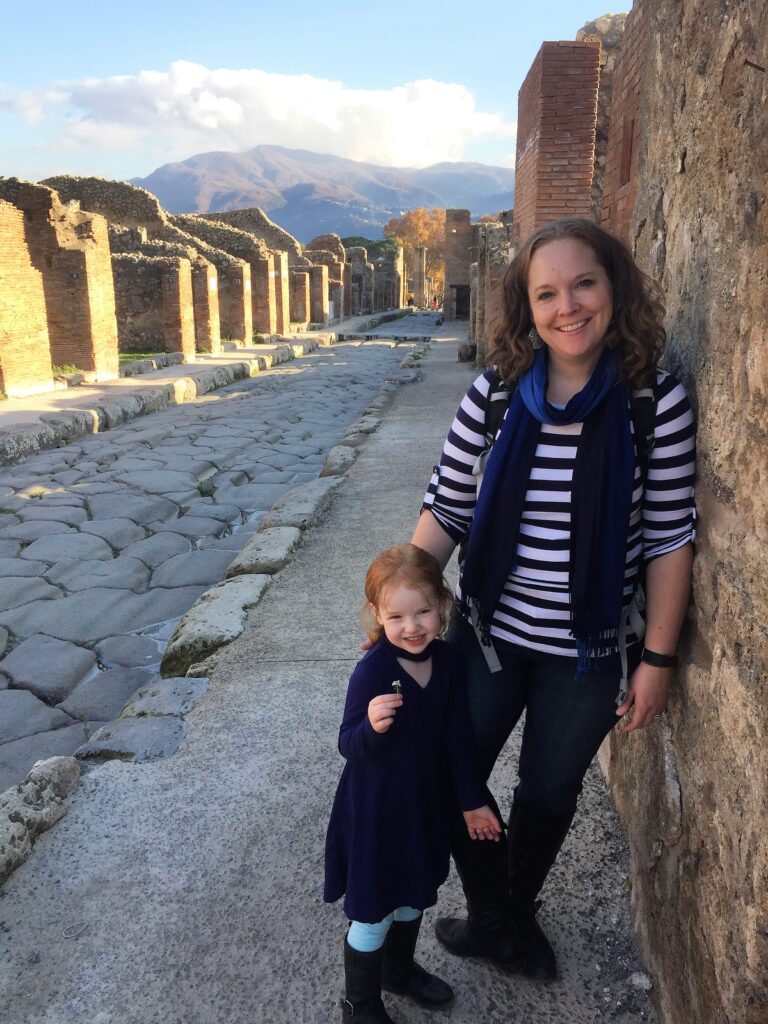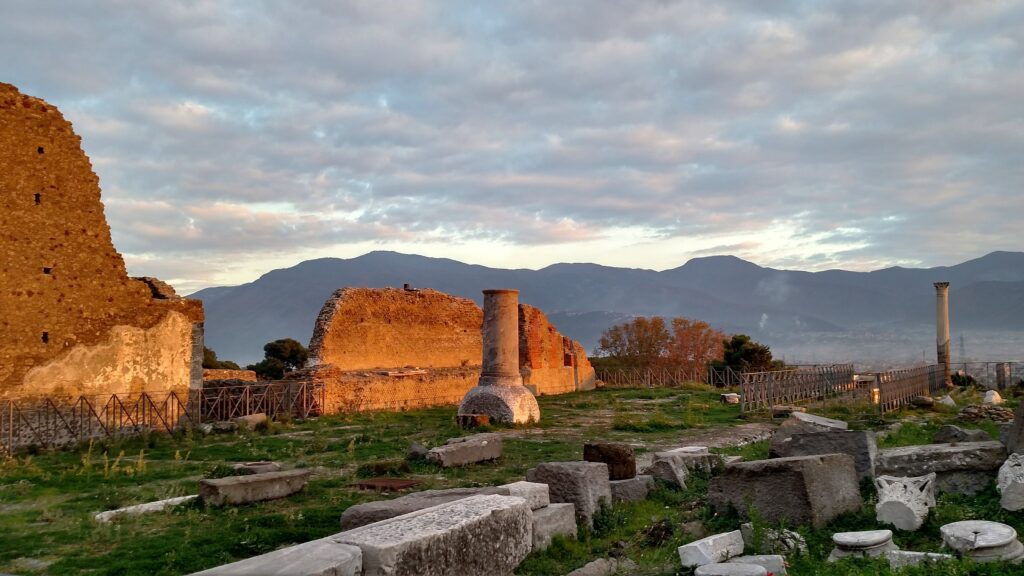 Ok, I've saved the best for last. One of the best reasons to visit Naples at Christmas can be found on Via San Gregorio Armeno, the street of the Presepe, or nativity, makers. Wander the stands and shops and collect pieces for your own nativity back home. This will definitely put you in the mood for the holidays. Oh, and pick up some more street food.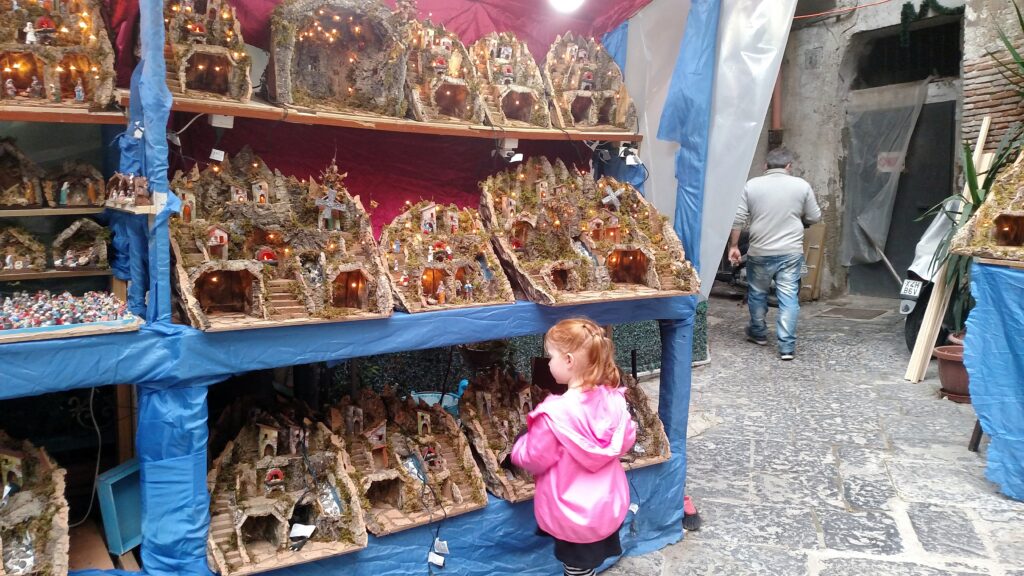 Where to stay:
We stayed in the Casa Antea in the Spaccanapoli neighborhood, the old historic center of the city. It was a perfect location and well-appointed, but you do walk up 4 flights of stairs and getting a car into this part of the city literally made me hide my head under the dash board and pray my face off. It is walking distance to everything you could want, including excellent pizza restaurants.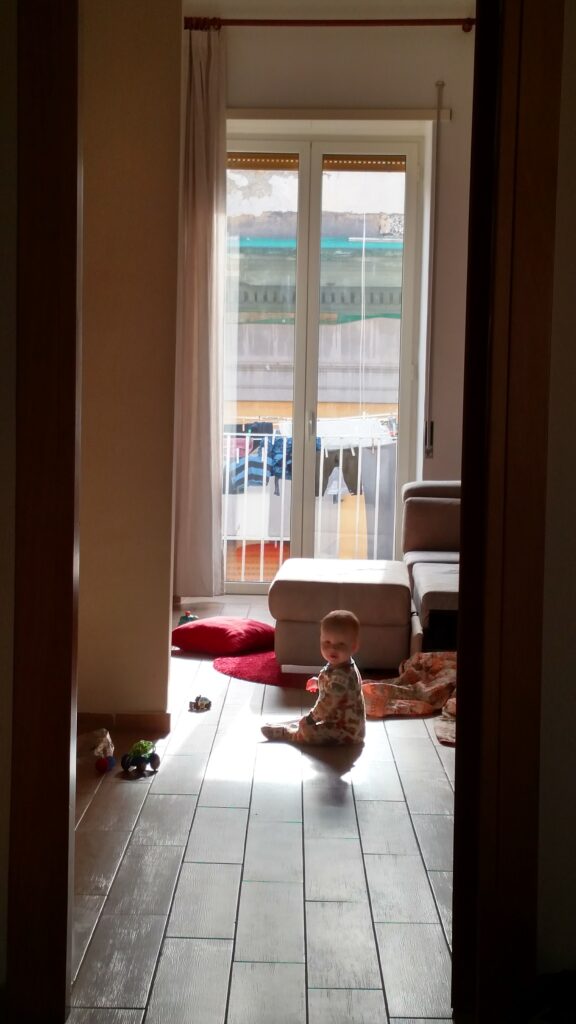 Where to eat:
I know this is getting tedious but eating in Naples is really really really easy. And delicious. Pizza was born here. Like literally created here. Go to Caffe Gabrinus, one of Europe's last grand cafes and have some Naples coffee and desserts. Pizzeria di Matteo is a short walk from the apartment, but so are 100 other perfect pizzerias. Just wander the streets and look for locals. That's your place. Children are welcome in every single restaurant, and you will not feel nervous about them being loud or interrupting other diners anywhere. Most pizzerias do takeaway in case your little ones need to call it a night.
That is it for me, friends. I hope you have enjoyed these little guides and they've given you some inspiration for future travel. Merry Christmas and here's to a 2021 full of travel!