Team Juggling Normal Q&A: Favorite Childhood Books
This last week, one of our favorite young adult authors passed away. Beverly Cleary was 104. Amazing! She wrote all of the Ramona books, many of them republished recently when the Ramona and Beezus movie came out in 2010. What are your favorite childhood books?
Team Juggling Normal would like to pay tribute to her with a quick rundown of our love of reading, some of our favorite books as we were growing up, and some of our kids' favorites now. Enjoy!
[This page contains Amazon affiliate links, and JN earns commission on qualifying Amazon purchases.]
I loved all books growing up. My favorites were the Anne series (Alyson, our oldest, did not like them) by LM Montgomery, Ramona books by Beverly Cleary, and the Little House series by Laura Ingalls Wilder – of which I'm pretty sure Alyson read a couple. My kids do love to read, but it's usually more successful if their teachers suggest books instead of me. Thatch (our middle) is currently plowing through the Fudge set by Judy Blume. Our youngest, who is 6, loves to have brother read those to her, and her favorites right now are the Princess in Black series by Shannon and Dean Hale.
I grew up in a house filled with reading and books. My mom liked mysteries and my dad read any historical non-fiction he could find. He could give walking tours of the Little Bighorn Battlefield or an accurate depiction of Rommel's march through North Africa, while discussing Russell's inspiration for "In Without Knocking" or the location of all the photos in Huffman's Before Barbed Wire.
We lived in the absolute middle of nowhere and got between 1 and 2.5 television stations, depending on the weather. Watching TV was just not that common in my house, so if we were not outside doing ranch things, we were inside, reading. We were also regular patrons of the local library, which was 30 miles away. I went to a one-room country school through the sixth grade and our "library" there was minimal and stuck in a corner of the room, but stocked with classics. I read Little Women in the second grade. Like most young girls, I was horse crazy and read dogeared copies of Marguerite Henry's classics, loving Misty of Chincoteague the most, and Walter Farley's Black Stallion books. Unlike my 80's contemporaries I did not find the one-room schoolhouse in the Little House series novel, but I did have a dugout my dad made me where I could reenact portions of the books.
As a Native American, I was also drawn to Bank's Indian in the Cupboard series, and have gotten my 7-year-old daughter hooked on those as well. Next up will be Island of the Blue Dolphins. In grade school, Ken Thomasma gave a talk to all the grade school students in my county, and having won a writing competition, I got to meet him and still have my signed copy of Naya Nuki.
Our local library did summer reading program competitions and naturally, I always read the most books. I still have my copy of Judy Blume's Tales of a Fourth Grade Nothing I won one summer. Her Are you There God… was, well – amazing.
Now, we are all talking about Beverly Cleary as of late, and for good reason. I loved Henry Huggins and that dang dog, because it reminded me of stories my dad would tell me about growing up with his dog, Tippy. As an older sister, with a younger brother, I was drawn to Beezus more than Ramona, but of course read them all.
In short, I read everything and this is a miniscule sample of books I loved growing up. I'm trying to instill the same in my kids. Right now, my 7-year-old is loving anything magical, having read the first six books of the Harry Potter series about 20 times each. I am not kidding. She is also currently reading the Princess Diaries and honestly anything else she can get her hands on. Her GTE teacher is pushing more non-fiction and historical fiction, so we are working on that. Is there a Federalist Papers for Kids book out there? She and I also still read out loud and I just started the final Harry Potter book (I've put it off because it's so much darker than the others). My 4-year-old is on the fourth big collection of Bob books (these are amazing and the first things both of my kids read – highly recommend for beginning readers), reading at about a first grade level, and ready to jump to whatever he wants. He and I just started the first Harry Potter book (the illustrated ones are perfect). I also read one smaller book every night – he loves anything that makes me do silly voices (Pout Pout Fish, Little Blue Truck) and Berenstain Bears.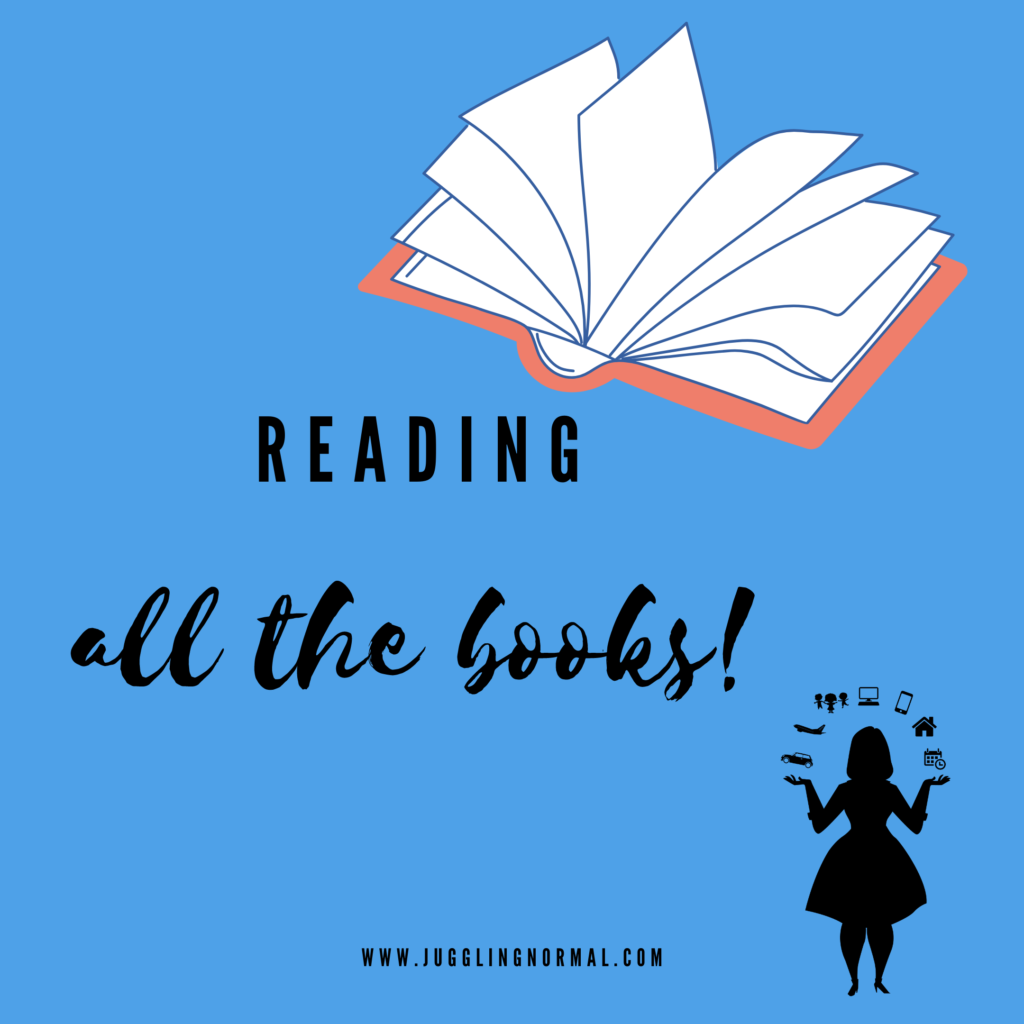 I recently covered a slightly linked topic – reading to our kids and what we read – on my Ladybrains Podcast a couple weeks ago. You can download it here, on Apple Podcasts. My friend Mary Katharine and I talked about all of the books we love, which ones our kids love, and the ones we love to hate but still keep. You know the ones.
Some things don't age well. Think Stand by Me and The Sandlot. I remember loving those movies as a kid but finding them a little cringe-worthy when it came to appropriateness for our children (too many smoking and tobacco references and so much language), but they have a feel-good nostalgia too.
But books, there's something more timeless about books. When you imagine a kid or a teen starring in your favorite story, you aren't picturing the decade's fashion from when it was written. Instead, you bring the story into your life as it is, as you are when you read it. You can see yourself in the story, and because you relate to the emotions and situations without being distracted by the time period or setting, it resonates as if it were current, no matter what year it was published.
When I was growing up, my favorite books/series were Judy Blume, Ramona Quimby, and Choose Your Own Adventure, and of course, if you are a girl of the 80's my guilty pleasure (before I even knew what guilty pleasures were) was Sweet Valley Twins and Sweet Valley High. Funny that I have twins now and haven't ever made that connection before. It 
is also funny because I think I just found the flaw in my theory, and books can be cringeworthy.
My kid's favorites are Judy Moody, Junie B. Jones, Magic Treehouse, Diary of a Wimpy Kid, and Rebel Girls.
The books we both loved at ages 6-8 were Berenstain Bears but had I discovered Roald Dahl and Harry Potter books when I was a kid, I can say with certainty that they would have been my favorite then too, and I love sharing them now as a family.
Kristi writes for Juggling Normal and at her site, KristiAndrus.com. This is original content for Juggling Normal.
In case you missed it, check out Linde's post about hers and her kids' favorite books in her post last fall, The Season for Snuggles and Readalouds is Here! 
If you've missed some of these great book ideas along the way, feel free to check them out! Our kids love them, and yours will too! Thanks for coming to check out our favorite childhood books!
You can find other posts from Team Juggling Normal on our Group Q&A page, here.