JN Group Q&A: Spring Break Virtual Trips – Cruise Ships? Yes or No, and Why
Have you ever gone on a cruise? Do you have plans to do it in the future?
As we are all staying home for the most part this year still, Team Juggling Normal thought we'd come up with a little primer on the idea of taking a cruise. Some of us have never done it (Linde, Sara, Jaime), and a few of us are cruise veterans and have some tips and tricks learned along the way (Kristi, Courtney, Lindsey). So, here are a few concerns raised by those of us who haven't done it, and some answers from the experts!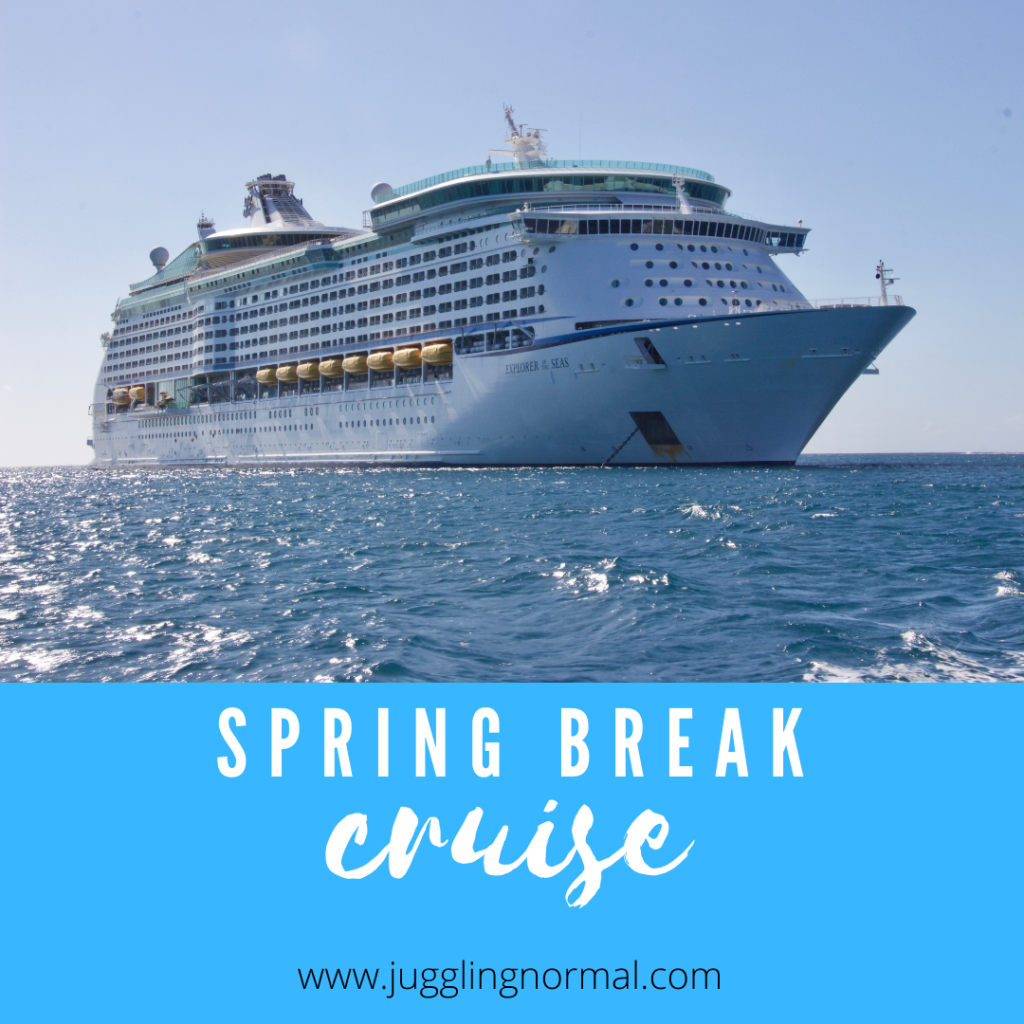 Think of it as a little myth vs. fact session in our stream of consciousness group chat. Feel free to use our thoughts as you contemplate your future travel plans!
I've never been!
I've never been, and I probably won't go (unless Kristi convinces me otherwise). My hesitancy really centers around wanting to get a true feel for the places we visit, which is impossible in a day and not wanting to put on the tourist blinders we see whenever we are in a cruise ship stop. People just traipse off the boat, visit a few top sites and get back on. I like to take the time to find hidden gems – not depend on preset excursions. I love trying the new restaurants and grocery shopping which I have come to find is the best place to truly get to know a place. Now I might actually find one ok in the Caribbean but at this point after so much travel in Europe I couldn't do one there. And probably not French Polynesia where we encountered some cruise ship passengers.
I'm on the no side as well. Honestly? I get sea sick on every kind of boat. And while I don't mind taking Bonine for a week, it's not my favorite. Plus, we like flying to one place and exploring as much as we can for days. Also, the husband is very OCD and freaked about all of the viruses on ships. So if we ever take one it will be a Viking or Disney cruise on a smaller boat.
I love cruises! I'll tackle some of these concerns.
Sara:
Also, maybe what it's really good for – I would think true relaxation and not so much "traveling" like my post about the difference between vacationing and traveling.
Yea it's a different style travel, it's not immersive but also it's not supposed to be. Cruising gives you a taste of a couple different areas in a hassle-free way to explore – while you won't have an immersive experience, it's a great way to take in new places you're not familiar with before you commit to a longer trip.
Jaime:
I like the idea of a cruise. Getting to see a bunch of new places while being on a floating hotel. Which may not be worse for my motion sickness than being in other transport forms that also make me sick. We just have chosen to do other things at this point.
On Sara's thoughts about group tours versus independent, I tend to want to explore places on my own and I always ignore those headphone tour guides. Count me as someone who likes to go off the beaten path or only do the big splashy when no one else is there. I shy away from big group outings and that is another downside to the cruise format.
Courtney:
So while I do like cruising, I HATE the big group tours. They can sometimes be great (like the Princess Ultimate Saint Petersburg Excursion I took in Russia, which was beyond fabulous.) I have tips I've found to help be independent and connect with a place that work better for me than those big group tours. The format is great for a lot of people but I don't find it works for me, I get bored easily and carsick on big busses. I recently discovered many ports offer private drivers you can book through your ship's excursion desk – and while they can be more expensive, if you are on the cruise with some friends, you can split the cost of the driver and follow a route similar to tours (you can also arrange a private tour guide with the driver in many instances) which is a game changer! I will also often look through tour descriptions to see what sites they visit – and then uber or taxi ahead of the groups and tour before the crowds from the ship show up.
For my family, the reason we chose to take a cruise was simple, we were able to see multiple destinations in one trip! We did a kid-friendly one where they could go meet characters and do different activities with them on days at sea. With it being geared more toward children, many eating options had kid friendly choices. The plus of going on a cruise is that the kids really had a blast – it may have been because we chose one geared toward them, but we were able to go to wine tastings, cooking classes, grandma could gamble (if you know my mom you know she loves her slots) – we found different things that peaked our interest. We did make sure we upgraded to a cabin with a balcony, because I was worried I would feel claustrophobic not having that option.
Here's the thing with a cruise: although they try to make it kid friendly and fun, they are still geared toward adults. We chose a kids cruise thinking the kids would have tons of options, however: there were 4 pools on board and only one that kids were allowed in; to be able to go to the children's day camp they had to be a certain age, and we had two two-year-olds who could not go. I would suggest if you are planning a cruise to ask any questions you can think of!
Kristi:
Hands down my favorite things: 1a) not having to navigate, tied with 1b) a different destination almost every day, followed closely by 2a) not having to think through meals, and 2b) keeping a routine. Ok, that's four things. Now you know why we love cruising, so many benefits, so much value.
Courtney:
Not having to worry about anything – it's so simple to unpack only once, and get to see lots of different places without having to worry about anything. It is an especially great way to travel for people with food allergies and issues – they work well for diners with celiac, food allergies, and other needs – cruise staff works tirelessly to ensure you can comply with dietary needs, and you don't need to worry about language issues. Cruising with Celiac in particular is much easier than you'd think – your head waiter will look over all of your food at meals to make sure it works for you, you can pre-order meals, and they have so many really delicious gluten free (or other allergen free) alternatives.
While a lot of people might think cruise food isn't the most luxurious – I can't complain about any of the cruises I've taken with Princess when it comes to food (I have only cruised with Princess so I'm sure other lines have great food, but I haven't tried them.) Princess prides itself on a wide variety of foods – from their award winning pizza (seriously, Slice on the pool deck is out of this world for New York style slices, and Alfredo's is one of my favorite restaurants on ship, plus it doesn't have an upcharge), to the Crown Grill steakhouse, to new surcharge restaurants, and even the buffet – I honestly love all the food on ship. The only thing I don't like is the room service coffee – its abysmal. Buy a coffee card and get espresso drinks from International Cafe or the buffet (if they have the drinks bar in the middle, some ships don't), which are fabulous.
Kristi:
More detail – 1a-With 3 little ones, I can't keep up with them all day, get us from point a to point b, and rest. If it's a land vacation, it's why we fly, schedule as much ground transportation as possible in advance, or use public transit (as opposed to road trips and renting cars). Plus, schlepping 3 car seats is a nightmare. Cruising means just that – cruising. Sit back, relax, trust that you'll get there. Fill your drive time with reading a book by the pool, taking a class, hitting the casino, or quality time with hubby – that never happens in a car.
1b-I've said it before, I'll say it again, cruising is like Christmas morning. Waking up every day to a new destination is thrilling. We go to bed dreaming of a place we've always wanted to see, then wake up, and it's real. For those who prefer immersion or are concerned about not getting to see enough in just one day, I get it. It takes some orchestrating, and by that, I mean planning, research, crowdsourcing, pre-booking, and deciding your itinerary in advance down to the smallest detail. Yes, we have unscheduled time, but it's scheduled.
We tend to buy shore excursions or book private tours that are very jam-packed with sightseeing and highlights. As a family of five, frequently that fills a group, so we get a private van or motor coach, they pick us up at the dock, and we are one of the first families off. We try to prioritize the best-of attractions, the most kid-friendly, the most culturally or educationally relevant, and the ones we would regret not seeing if we never get there again. Anytime there's an option to bypass the line, and it's not stupidly expensive, we opt in. When we get dropped off, we are usually one of the last back on board, and we shower, eat at our reserved time and sleep well. Sea days are lazy and indulgent to catch up to port days.
2a-Our kids are good restaurant kids. They understand manners and etiquette and will try different foods. They are also always hungry. When we road trip, rent a condo or even go to Grandmas, we pack enough food for a caravan. Snacking kills a vacation budget. Three applesauce pouches you packed = $1.80. Three applesauce pouches you pick up at Starbucks on the go = $6. Same for drinks and desserts. It can add up to $100/day plus meals. We usually ship an Amazon boxful in advance to our hotel. At Disneyworld, for example, we sent juice boxes, bottled water, smoothie packs, fruit snacks, instant oats, bagels, chips, trail mix, anything they like that's shelf-stable because keeping them fueled up is key. On a cruise, all the meals and snacks are included. Yes, you can upgrade your dining experience or opt-in for adult beverages for a surcharge, but there are hacks for that, and you don't have to. Being able to swing by the fruit station three times a day, get soft serve at the pool every day, and grab those tiny little cereal boxes for every shore excursion for no extra charge is amazing. They like the pomp, too, like formal night, courses, and dessert adventures.
2b-Again, mom of three, very close in age, so my perspective might be skewed, but scheduling saves our sanity. On a cruise, I can still work out or write or do my mom things every morning before they wake up, grab breakfast (that I didn't have to cook or clean up), then get them going. I feel great because I had me time, and even if we have a very full agenda, tight timelines, or many time zone changes, I can be fully present and keep them on an eat, sleep, explore schedule similar to ours at home.
A dozen other things to consider:
If you get seasick, pack all the motion sickness aids. Take something before you board, and then try it cold-turkey on day 3. If you're worried about jet lag, fly in early and enjoy the first stop for a few days on either end.
Pack disinfectant wipes and wipe down everything in your cabin the moment you get in your room. We did that before COVID.
Book your cabin way in advance if you have special considerations (like a family of five). We tried it with two adjoining rooms (it didn't work, one cabin ended up the luggage/storage room, while the kiddos snuck in our cabin most nights – two bathrooms was nice, though). Our favorite setup is a master bedroom on one side, a sitting room with a pull-out sofa and bathroom in the middle, bunk beds room on the other end. Everyone gets privacy without being too far away. Don't splurge for a balcony until they're big. They can't wrestle or climb or fall over a window. You want to relax, don't you?
Loose rule of thumb: Prioritize itinerary or ports over ship or cruise line.
Do a practice run while the kids are little or for their first time. Hubby and I love to cruise, so we wanted the kids to love it, but it's a lot, and we were concerned about seasickness too. So for their first, we took them on a 7-night Dreamworks-themed cruise to the Caribbean. Shrek, How to Train Your Dragon, and Trolls characters and activities were everywhere. There were many awesome things for them to try – there was a "real" Central Park promenade with no roof, living plants, a strolling trail, great for stargazing and feeling like you were on land, a boardwalk with arcade, carousel, and kid food/treats.
We introduced our children to Kids Club via family activities first, then short blocks without parents, extended time (a whole morning or afternoon) only if they wanted it. It helps that our three can qualify for the same age category. It means couples time and mini dates.
Since then, the kids are Platinum on Royal Caribbean and have done 40-something nights? I would have to check. They know the drill, like the cafe, meeting friends from around the world, having a bit of autonomy, and have cultivated a sense of adventure. The longest with the kids was three weeks in the South Pacific.
Cruising is ideal for island-hopping and remote locations expensive or challenging to get to/from. It's ideal for multi-generational travel too, as Lindsey said.
We've cruised Royal Caribbean, Holland America, Carnival, Norwegian. I feel like I'm missing one. Never Princess, so I'm interested in that.
On the food front, I'm more of a splurge on land than sea, but we did do the Chef's Table private experience last time with some couples we met on board, and it was fun and delicious.
Join cruise boards to build anticipation and research your trip. We like CruiseCritic.com. It creates community and is a place to read, search, and post reviews, deals, tips, and recommendations. There's always one or two posts that make sifting through it worth it, like a local tour guide, a hidden gem, or a "wish I would have known in advance" reveal. On that long cruise, there were about 20 of us that connected in spin class together each day, and that's a way to enjoy it with others, too, find like-minded people. Hubby loves game/trivia nights and mini-golf. Kiddos love pool time, dance parties, and family competitions like scavenger hunts, and the floor is lava. I love fitness and enrichment classes and seeing the world through our kid's eyes. Plus the memories! Travel memories are the best.
Lastly, you only pack/unpack once, which is a game-changer for this mama. We left an entire drawer of undies and swimwear in a hotel once, lost a favorite stuffed friend in another. To have comforts and familiar things from home and get to bring them all over the world makes little travelers feel good.
Courtney:
If you're looking for a cruise where you can stay connected and still be able to work (while I know this defeats the purpose for many, both my husband and I work for ourselves so we often have to check-in with work even when on vacation and need reliable internet), I strongly recommend checking out a cruise with Ocean Medallion technology. I work with Princess Cruises occasionally, and I was paid to promote their Ocean Medallion rollout – but it is hands down one of my favorite parts of cruising! Princess majorly upgraded internet connectivity (they currently have the fastest internet at sea), all over the ship – you can stream shows, work, upload and download – and gone are the times of paying a fortune for every gigabyte of data. Now you pay a set fee (we opt for packages with wifi and drinks, since we use both a lot) for a certain amount of devices and connect!
I also love the other features you get with your Ocean Medallion – a charm you wear that acts as your cruise card instead of the old plastic cards I'd always lose or have de-magnetize. The program is a gamechanger – you can see where friends and family are on ship by using an app on your phone or one of the many screens around the ship, you can use it to order food wherever you are (ordering champagne and fries while watching a movie under the stars is always my favorite – they will bring food and drinks to you wherever so you don't have to miss out on fun), it is great for planning activities, and they have really fun scavenger hunts and other activities for kids and adults built-in. It even unlocks your stateroom door when you walk up to it, so you don't have to juggle with things in your hands. Right now this program is only on Princess Cruises and some international brands, but will eventually be on all Carnival owned ships.
Check out our other Team Juggling Normal Group Q&As!
So…we hope that we have given you a rundown of all of the reasons that some of us love to cruise, and why a few of us still prefer other modes of travel.
If you liked this post, you may also like our Team Juggling Normal Q&A on What is your Dream Trip? from last year!